Product attributen
material: premium chrome vanadium steel
drop forged, entirely hardened and tempered
working surfaces induction hardened
surface finish: chrome plated according to ISO 1456:2009
heavy duty double - component handles
Voordelen:
Toothed jaw is designed to ensure optimum grip of an object.
Jaw aperture adjustable in 10 positions.
The HPP pliers have a button for fast regulation of the jaw's gap which enables fast and precise adaptation of the jaw to the wanted grip of the work piece.
Extreme grip strength: The design and shape of the pliers' jaws enable, despite the slim construction, better grip strength of the work piece, which results in stability, work safety, and greater effectiveness.
Finish: pliers are drop forged from high quality tool steels and heat treated
Work: due to the slim construction, the jaws enable one-handed work in difficult-to-reach places
Made of double-component material which reduces slipping of the hand during work and so enable safe and effective transmission of power from the hand to the pliers' jaws
Ergonomics: handles are designed to fully adjust to the user`s hand and so enable greater handling and work safety
Technische fiche
Meer over dit product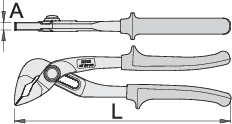 * Images of products are symbolic. All dimensions are in mm, and weight in grams. All listed dimensions may vary in tolerance.
Verschillende extra onderdelen

Het assortiment aan pijpsleutels wordt aangevuld met andere gereedschappen voor buiswerkinstallaties, zoals diverse buissnijders en bankschroeven, vlammengereedschappen, testpompen voor buiswerk.

Ergonomische vorm

De speciale grijpbuissleutel ligt dankzij de ergonomische vorm altijd perfect in de hand en zorgt voor een stevige, slipvaste aansluiting op de buizen, ongeacht hun vorm of breedte.

Gemakkelijk te installeren

Unior buis- en buisgereedschappen maken een veilige en efficiënte installatie van sanitairsystemen mogelijk, omdat ze een groot deel van de extra kracht op de buizen overbrengen en zorgen voor een sterke en stabiele houvast zonder moeren of bouten.