Long nose pliers with side cutter and pipe grip, straight, for safe work at heights
Product attributen
material: premium plus carbon steel
drop forged, entirely hardened and tempered
snijkanten inductief gehard
surface finish: chrome plated according to ISO 1456:2009
dubbel-component handvaten voor zeer intensief gebruik
made according to standard ISO 5745
Voordelen:
In order to ensure the highest level of safety, the riveted metal ring is not mounted only through the plastic handles but is attached through the metal part of the tool handle.
non-removable riveted metal ring
tool weight is marked on each tool
the rings on the tools are large enough to accept 2 carabiners
Unior's tools for working at heights have been designed to preserve the tools' basic functions, ergonomics and utility, or to reduce them to the smallest possible extent.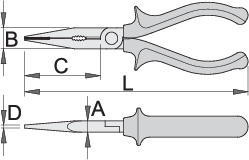 cutting capacity (10N=1kg)
* Images of products are symbolic. All dimensions are in mm, and weight in grams. All listed dimensions may vary in tolerance.
Zeer efficiënte oplossingen

Werken op hoogte brengt veel risico's met zich mee, dus niets kan aan het toeval worden overgelaten. Unior - een synoniem voor hoogwaardig handgereedschap - presenteert een lijn van gereedschappen die speciaal zijn aangepast voor het werken op hoogte om gevaarlijke valincidenten te voorkomen.

Gereedschap van zeer hoge kwaliteit voor hoogtewerkers

Gereedschap voor het werken op hoogte is standaard voorzien van bevestigingspunten. beveiligd gereedschap verhoogt de arbeidsveiligheid aanzienlijk.

Hoge precisie

Unior's gereedschap voor het werken op hoogte is ontworpen om de basisfuncties, de ergonomie en het nut van het gereedschap te behouden, of om het tot een minimum te beperken.