Combination pliers, for safe work at heights
Product attributen
material: premium plus carbon steel
drop forged, entirely hardened and tempered
snijkanten inductief gehard
surface finish: chrome plated according to ISO 1456:2009
dubbel-component handvaten voor zeer intensief gebruik
made according to standard ISO 5746
Voordelen:
In order to ensure the highest level of safety, the riveted metal ring is not mounted only through the plastic handles but is attached through the metal part of the tool handle.
non-removable riveted metal ring
tool weight is marked on each tool
the rings on the tools are large enough to accept 2 carabiners
Unior's tools for working at heights have been designed to preserve the tools' basic functions, ergonomics and utility, or to reduce them to the smallest possible extent.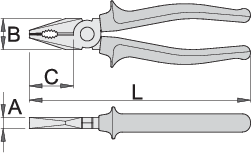 cutting capacity (10N=1kg)
| | | | |
| --- | --- | --- | --- |
| 626958 | 160 | 1,6 | 2,0 |
| 626959 | 180 | 1,8 | 2,5 |
* Afbeeldingen van producten zijn symbolisch. Alle afmetingen zijn in mm, en het gewicht in grammen. Alle vermelde afmetingen kunnen variëren in tolerantie.
Safety tips

Pliers should be oiled regularly. A drop of oil at the hinge will lengthen the tool life and assure easy operation.
When cutting wire with pliers, you should always wear glasses or goggles.
Handles are provided for comfort. They are not intended to give user any degree of protection against electric shocks and should never be used on live electric circuits.

Don't use pliers for cutting hardened wire, unless specifically manufactured for this purpose.
Don't expose pliers to excessive heat. This may ruin the tool.
Don't use pliers as a hammer.
Don't hammer on the handles. They may crack or break.
Don't extend the length of plier handles to secure greater leverage.
Don't use pliers on nuts or bolts. A wrench will do a better job and with less risk of damage to the fastener.
Questions & Answers
Kan men een gereedschap voor werken op hoogte als een normaal gereedschap gebruiken?

Een tool voor werken op hoogte heeft dezelfde bruikbaarheid als een normaal gereedschap, behalve dat er een niet-verwijderbare geklonken metalen gesp aan dit gereedschap is toegevoegd.

Is het opgegeven gewicht per stuk gereedschap voor veilig werken op hoogte ook inclusief het gewicht van de metalen ring?

Het gewicht van het gereedschap staat op het gereedschap vermeld, inclusief het gewicht van de metalen ring.
Zeer efficiënte oplossingen

Werken op hoogte brengt veel risico's met zich mee, dus niets kan aan het toeval worden overgelaten. Unior - een synoniem voor hoogwaardig handgereedschap - presenteert een lijn van gereedschappen die speciaal zijn aangepast voor het werken op hoogte om gevaarlijke valincidenten te voorkomen.

Gereedschap van zeer hoge kwaliteit voor hoogtewerkers

Gereedschap voor het werken op hoogte is standaard voorzien van bevestigingspunten. beveiligd gereedschap verhoogt de arbeidsveiligheid aanzienlijk.

Hoge precisie

Unior's gereedschap voor het werken op hoogte is ontworpen om de basisfuncties, de ergonomie en het nut van het gereedschap te behouden, of om het tot een minimum te beperken.