Flat chisel with guard, for safe work at heights
Product attributen
material: premium chrome vanadium steel
entirely hardened and tempered
surface finish: lacquered
made according to standard DIN 6453
Voordelen:
non-removable riveted metal ring
tool weight is marked on each tool
the rings on the tools are large enough to accept 2 carabiners
Unior's tools for working at heights have been designed to preserve the tools' basic functions, ergonomics and utility, or to reduce them to the smallest possible extent.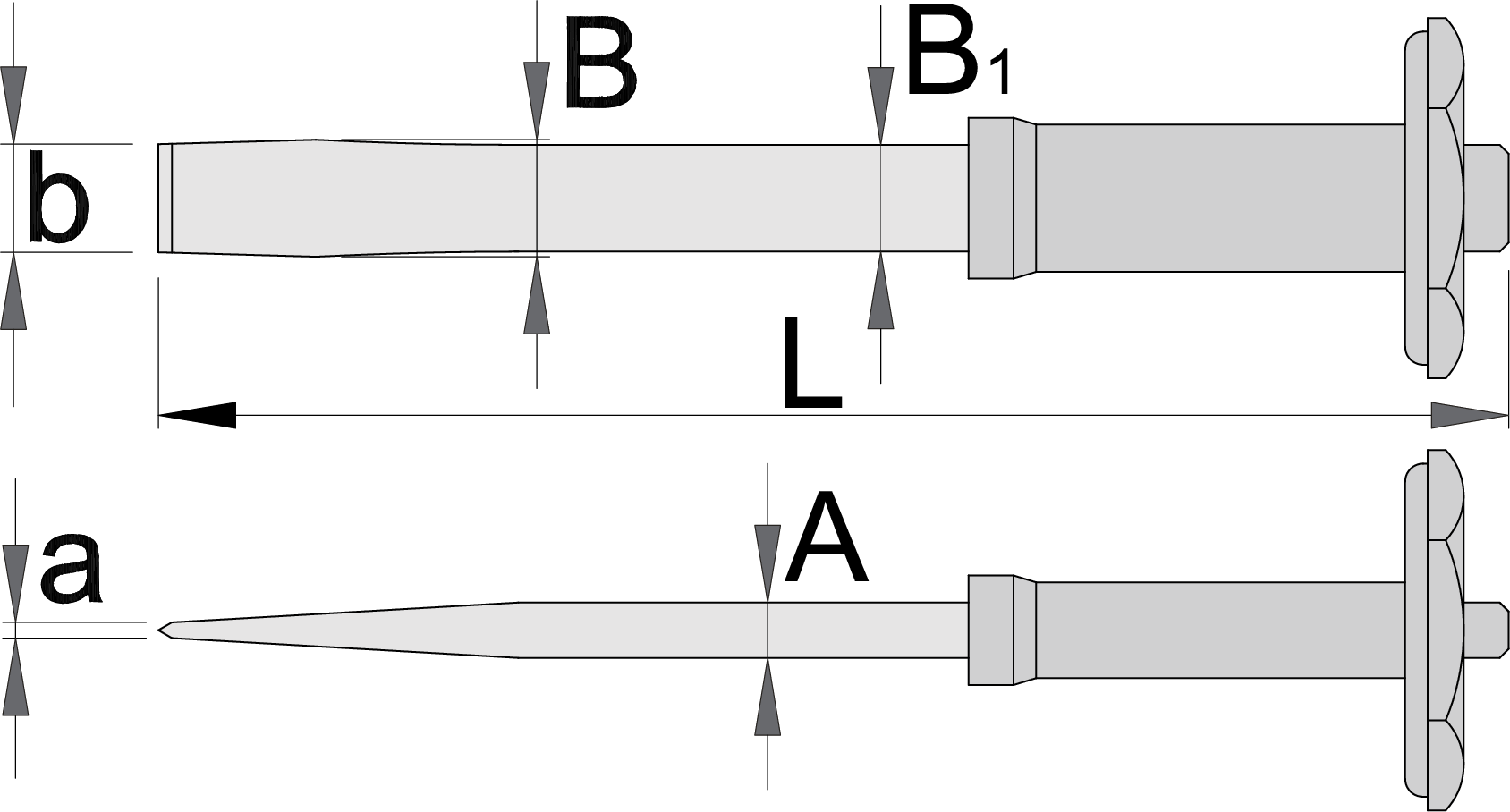 * Afbeeldingen van producten zijn symbolisch. Alle afmetingen zijn in mm, en het gewicht in grammen. Alle vermelde afmetingen kunnen variëren in tolerantie.
Veiligheidstips

Verwissel gereedschap altijd in veilige ruimten waar geen gevaar is voor vallend gereedschap.
Gebruik altijd gereedschap met Unior karabijnhaken en gebruik nooit karabijnhaken met een diameter van minder dan 6 mm.
Tools being used at height should regularly be checked for damage and that there is no damage to lanyards, carabiners, attachment rings or belts.

Gebruik geen gereedschap zonder het aan uw werkriem te bevestigen wanneer u op hoogte werkt.
Gebruik en repareer geen beschadigd gereedschap.
Overschrijd het maximumgewicht van 2,3 kg niet voor individuele gereedschappen die een werknemer aan zijn riem kan bevestigen.
Vraag en Antwoord
Kan men een gereedschap voor werken op hoogte als een normaal gereedschap gebruiken?

Een tool voor werken op hoogte heeft dezelfde bruikbaarheid als een normaal gereedschap, behalve dat er een niet-verwijderbare geklonken metalen gesp aan dit gereedschap is toegevoegd.

Is het opgegeven gewicht per stuk gereedschap voor veilig werken op hoogte ook inclusief het gewicht van de metalen ring?

Het gewicht van het gereedschap staat op het gereedschap vermeld, inclusief het gewicht van de metalen ring.
Zeer efficiënte oplossingen

Werken op hoogte brengt veel risico's met zich mee, dus niets kan aan het toeval worden overgelaten. Unior - een synoniem voor hoogwaardig handgereedschap - presenteert een lijn van gereedschappen die speciaal zijn aangepast voor het werken op hoogte om gevaarlijke valincidenten te voorkomen.

Gereedschap van zeer hoge kwaliteit voor hoogtewerkers

Gereedschap voor het werken op hoogte is standaard voorzien van bevestigingspunten. beveiligd gereedschap verhoogt de arbeidsveiligheid aanzienlijk.

Hoge precisie

Unior's gereedschap voor het werken op hoogte is ontworpen om de basisfuncties, de ergonomie en het nut van het gereedschap te behouden, of om het tot een minimum te beperken.