Krachtsnijtangen voor zeer intensief gebruik
Product attributen
materiaal: speciaal gereedschapsstaal
gesmeed, volledig gehard en getemperd
snijkanten inductief gehard
afwerking oppervlak: verchroomd volgens EN12540-norm
beantwoordt aan de ISO5749 en EN60900-norm
Voordelen:
handvatten zijn dubbellagig en tweekleurig geïsoleerd voor extra veiligheid
Unior's tools for working at heights have been designed to preserve the tools' basic functions, ergonomics and utility, or to reduce them to the smallest possible extent.
tool weight is marked on each tool
Belangrijk !
als de tweede laag zichtbaar wordt, vervang dan uw VDE gereedschap door een nieuw stuk.
Insulated tool is not designed for use with carabiners, but with a lanyard with a cord.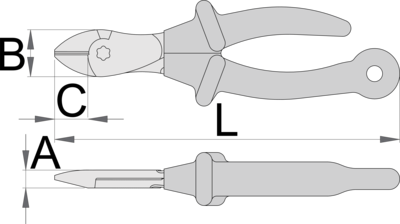 cutting capacity (10N=1kg)
* Images of products are symbolic. All dimensions are in mm, and weight in grams. All listed dimensions may vary in tolerance.
Zeer efficiënte oplossingen

Werken op hoogte brengt veel risico's met zich mee, dus niets kan aan het toeval worden overgelaten. Unior - een synoniem voor hoogwaardig handgereedschap - presenteert een lijn van gereedschappen die speciaal zijn aangepast voor het werken op hoogte om gevaarlijke valincidenten te voorkomen.

Gereedschap van zeer hoge kwaliteit voor hoogtewerkers

Gereedschap voor het werken op hoogte is standaard voorzien van bevestigingspunten. beveiligd gereedschap verhoogt de arbeidsveiligheid aanzienlijk.

Hoge precisie

Unior's gereedschap voor het werken op hoogte is ontworpen om de basisfuncties, de ergonomie en het nut van het gereedschap te behouden, of om het tot een minimum te beperken.