griptang voor het snijden van uitlaatpijpen
Product attributen
material: jaws from Premium Flex Plus carbon steel
handles made from sheet metal
Cutting capacity: 25–85 mm.
used for cutting exhaust pipes in partial replacements of exhaust systems.
Voordelen:
the plastic-coated T-handle provides better grip for the user.
universal locking mechanism.
How to use the tool:
This tool is primarily intended for cutting exhaust pipes but, due to the design of its cutting chain and blades, it can also be used for copper pipe, plastic pipe and various other pipes with diameters between 25 and 85 mm. The tool is safe and easy to use due to accessories such as: – a longer cutting chain enabling you to cut pipes with diameters of up to 85 mm; – larger cutting blades, enabling you to cut steel tube up to 3 mm thick, brass tube up to 4 mm thick, PVC tube up to 5 mm thick; – a plastic-coated T–handle that decreases the amount of force necessary to use the tool, enhances grip and prevents slipping; – a universal locking mechanism that keeps the tool in position until you release the locking mechanism and stop cutting. The cutting chain is subject to wear, which is why we are offering it as a spare part (art. 2082.1).
Technische fiche
Meer over dit product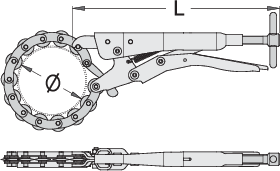 * Images of products are symbolic. All dimensions are in mm, and weight in grams. All listed dimensions may vary in tolerance.
Bescherming van het oppervlak

Gereedschappen zijn gemaakt van een uitstekende staal samenstelling. Verschillende modellen zijn voorzien van een extra verchroomde oppervlaktebescherming.

Ergonomisch handvat

Met ergonomische handvaten en speciaal ontworpen grip, het oppervlak van Unior tangen geeft een maximaal comfort en hoge efficiëntie met minimale inspanning.

Hoge precisie

Met hun perfecte ontwerp en technologische superioriteit zorgen Unior automotive tools voor een hoge mate van precisie in elk geval van algemeen of specifiek gebruik.