Falsifikim të ftohtë
Cold forging is a metal forming process where a slug or blank is deformed at (or at near) room temperature.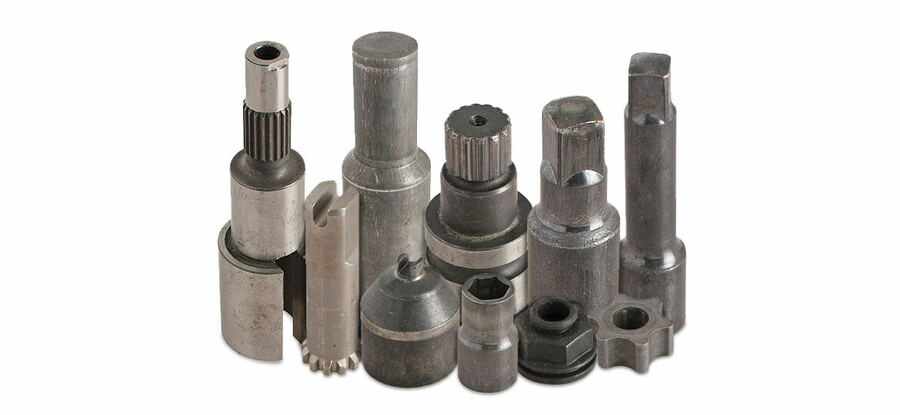 Cold forged parts can be produced using one or more single station vertical mechanical or hydraulic presses, or automated multi-station cold forming machines where the pre-formed part is transferred from one station to the next at high speed with each station performing a specific cold forming process.
Cold forging is a reliable and cost efficient process because it can be used to produce parts of superior mechanical properties without (or minimum) waste of material. Cold forging can be very efficient for mass production.
Advantages of cold forging
savings in material and final machining
high productivity
excellent dimensional accuracy and surface quality of cold forged parts
improvement of mechanical properties of cold forged parts
Areas of use of cold forged parts
Water pumps
Hydraulic industry
Pneumatic industry
Agricultural machines (tractors, tractor attachments, working machines)
Industry of heavy construction machinery
Internal combustion engines (nautical, cargo, automotiv, etc.)
Automotive industry
Military industry
Oil/Gas industry
Materials suitable for cold forging:
| | | |
| --- | --- | --- |
| 25CrMo4 | C15 | 15Cr3 |
| 20CrMo5 | C22 | 15CrNi6 |
| 16MnCrS5 | C35 | 17CrNiMo6 |
| X7Cr13 | | |
Additional offer
Mechanical machining:
turning
milling
drilling
broaching
grinding, etc.
Surphace protection:
zinc plating
crome plating
phospating
painting, etc.
For more information, contact us on this page