Karrocë për vegla "HERCULES" me sistem sigurie "Block" me 7
Product features
Materiali: fletë metalike
lock with key included also foam keyring
new block safety system, prevents opening of more than one drawer at once. When one drawer is opened, all other drawers are locked and cannot be opened.
mbathje me rrëshqitje-top duke mbajtur
Hapja dhe mbyllja e mbathje është shumë e thjeshtë për shkak të zgjidhjes uniforme - sirtar trajtuar në pjesën e sipërme mundëson përdoruesve një rrokje sinkronike dhe hapjen e një sirtar për bartje.
mbulon sintetike mbrojtur mbathje dhe mjetet nga dëmtimi
7 mbathje para zbehtë. 560x365 mm (lartësi 5 70 2 mm dhe lartësi 150 mm)
basic dimensions with handle and casters L 1182 x W 640 x H 955 mm
total volume of drawers: 133 litres
Kapaciteti statike ngarkesës e transportit pa rrota: 2300kg
dynamic load capacity of carriages: 550 kg
Kapaciteti maksimal i sirtarin e para: 45 kg
drawers compatible with SOS tool trays 1/3, 2/3, 3/3
Avantazhet:
Perforated wall on the back side of the tool carriage allows hanging tools with tool hooks
As an accessories available also a spray holder for easy storage of sprays up to dia. 68mm, and a back door with a lock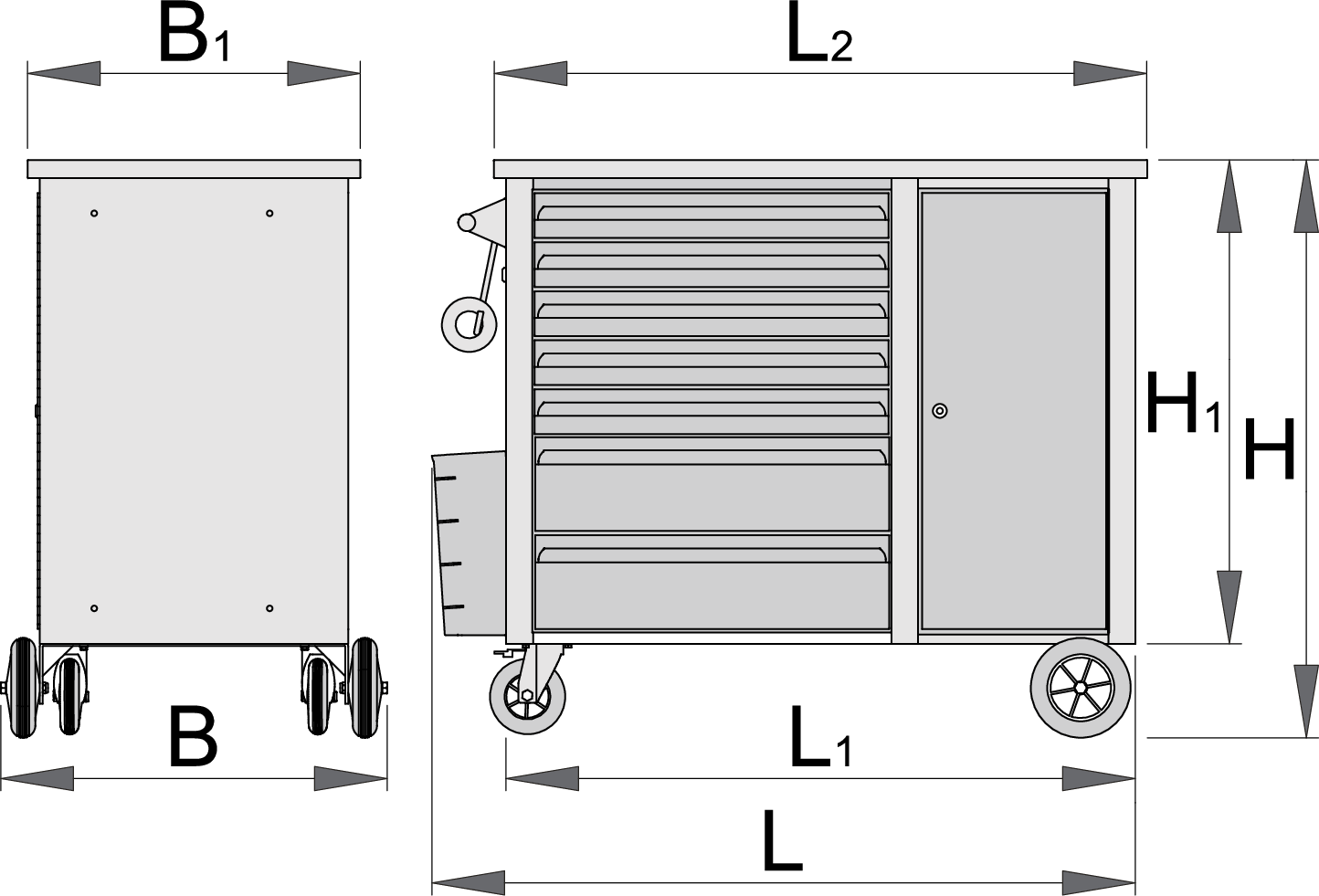 * Imazhet e produkteve janë simbolike. Të gjitha dimensionet janë në mm, pesha në gram.
Safety tips

Lock all your drawers before trying to roll the tool carriage into a new work area.
Set the brakes on the locking casters after you have rolled the cabinet to your work area.
Treat you tool carriage, tool chests, or tool boxes with respect.
Always follow the prescribed max load capacity of individual drawers and the carriage as a whole.
Always put heavier objects in the bottom drawers
Always close drawers when not in use.
Always follow manufacturer manual instructions regarding assembly and repair of your tools.

Don't open two or more drawers at the same time, there is high chance of it tipping over.
Don't throw tools into drawer, always put the tools in.
Don't use an opened drawer as a working surface.
Don't clean a lacquered surface with a solvent cleaner.
Don't pull a tool carriage as you won't be able to see where you are headed. Push it in front of you so you can see where you are going.
Don't stack a tool carriage with too many extra chests or tool trays; it may tip over at the most unexpected time.
Don't roll a tool carriage with loose tools or parts on top of the carriage.
Don't roll a tool carriage too quickly; a pot hole in the floor or some hardware on the floor may cause an accident.
Don't overload the drawers; if you haven't got room for all of your tools, you need a larger tool carriage.
Don't open up too many loaded drawers at a time; close each drawer before opening up another. Heavily loaded opened drawers are an invitation to tipping.
Questions & Answers
What does it mean if the tool carriage has the word BLOCK on the item label?

This means that it has a system of guides that makes it impossible to have two drawers open at the same time.
Çeliku fletë Cilësisë

Qerre mjet, zemrat, kabinete dhe kuti të ndryshme për ruajtjen mjet, si dhe grupe pune, qëndron, grepa dhe pajisje të tjera janë bërë të gjitha prej çeliku me cilësi fletë. Llak veshura për të rezistuar korrozioni dhe gërvishtjet, pajisje është praktikisht i pathyeshëm

Formë inovative

Një njohuri të plotë të gjitha kërkesat e punës së profesionistëve lokale ka rezultuar në edicionet e pajisjeve të seminarit të aftë për të ofruar qasje të madhe, magazinimit të qartë mjet dhe përmirësimin e shikimit në çdo moment.

Qartë magazinimit mjet

Me ruajtjen e saj të qartë mjet dhe qasje të lehtë, pajisje UNIOR seminar ju ndihmon të mbani seminarit tuaj në mënyrë dhe në këtë mënyrë rrit produktivitetin tuaj.