Dana të siguresave "PLUS" të brendëshme,të drejta,për punë në lartësi
Product features
Materiali: çeliku të veçantë mjet
rënie të falsifikuara, ngurtësuar tërësisht dhe nevrik
përfundojë sipërfaqe: krom kromuar sipas ISO 1456:2009
këshilla të përfundojë e zezë
plastike të dyfishtë zhytur trajton
bërë sipas standardit DIN 5256 formë C
Avantazhet:
In order to ensure the highest level of safety, the riveted metal ring is not mounted only through the plastic handles but is attached through the metal part of the tool handle.
non-removable riveted metal ring
tool weight is marked on each tool
the rings on the tools are large enough to accept 2 carabiners
Unior's tools for working at heights have been designed to preserve the tools' basic functions, ergonomics and utility, or to reduce them to the smallest possible extent.
Durim 30% më i lartë në krahasim me unaza përshtatshëm Dana
Përdorim:
instalimin e rrjeteve të sigurisë në boshte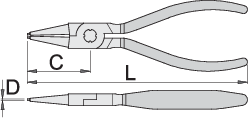 * Imazhet e produkteve janë simbolike. Të gjitha dimensionet janë në mm, pesha në gram.Të gjitha dimensionet e listuara mund të ndryshojnë në tolerancë.
Safety tips

Always change tools in secure areas where there is no risk of falling tools.
Always use tools with Unior carabiners and never use carabiners with a diameter less than 6mm.
Tools being used at height should regularly be checked for damage and that there is no damage to lanyards, carabiners, attachment rings or belts.

Don't use tools without attaching them to your work belt when working at height.
Don't use and fix damaged tools.
Don't exceed maximum weight of 2.3kg for individual tools that a worker can attach to their belt.
Questions & Answers
Can we use a tool for working at height as a normal tool?

A tool for working at height has the same usability as a normal tool, except that a non-removable riveted metal buckle is added to this tool.

Does the stated weight per tool for safe work at height also include the weight of the metal ring?

The weight of the tool marked on the tool, included also weight of metal ring
HIGHLY EFFICIENT SOLUTIONS

Puna në lartësi përfshin nivele të larta rreziku, kështu që asgjë nuk mund t'i lihet rastësisë. Unior – sinonim i veglave të dorës me cilësi të lartë, paraqet një linjë veglash të përshtatura posaçërisht për të punuar në lartësi për të shmangur rëniet e rrezikshme.

MJETE ME CILESI TË LARTË PËR PUNË TË SIGURTË NË LARTËSI

Mjetet për të punuar në lartësi janë vegla standarde të pajisura me pika ngjitjeje. mjetet e siguruara rrisin ndjeshëm sigurinë në punë.

Saktësi të lartë

Veglat e Unior për të punuar në lartësi janë krijuar për të ruajtur funksionet bazë, ergonominë dhe dobinë e veglave, ose për t'i zvogëluar ato në masën më të vogël të mundshme.