Product features
These ultra-powerful cutters are used to easily cut metal wire, including hardened and tempered alloys, and other extruded metals. They are ergonomically designed to apply a maximum force, while being easy on the hands. Drop-forged from high carbon steel with induction hardened cutting edges, PowerShark cutter can cut through up to 6mm of soft metal wire, 3,5 mm of hard steel, and 3 mm of tempered piano wire or steel springs. In addition to wire, the Powershark cutters will quickly and cleanly cut through 4mm diameter nails, screws and rivets.
drop forged from Premium Hard Plus carbon steel
double-dipped plastic non-slip handles provide good ergonomic hand grip
Avantazhet:
fully hardened to ~47HRc, with cutting edges induction hardened to ~64HRc
finished with an anti-corrosive black coating and lightly oiled
central cutting edges leave a bevelled finish on both sides of the cut
Përdorim:
for precise cutting of soft (up to 6 mm), hard (up to 3,5 mm) and piano wires (up to 3 mm)
easily cuts parts such as screws, nails, rivets, etc. up to 4 mm thickness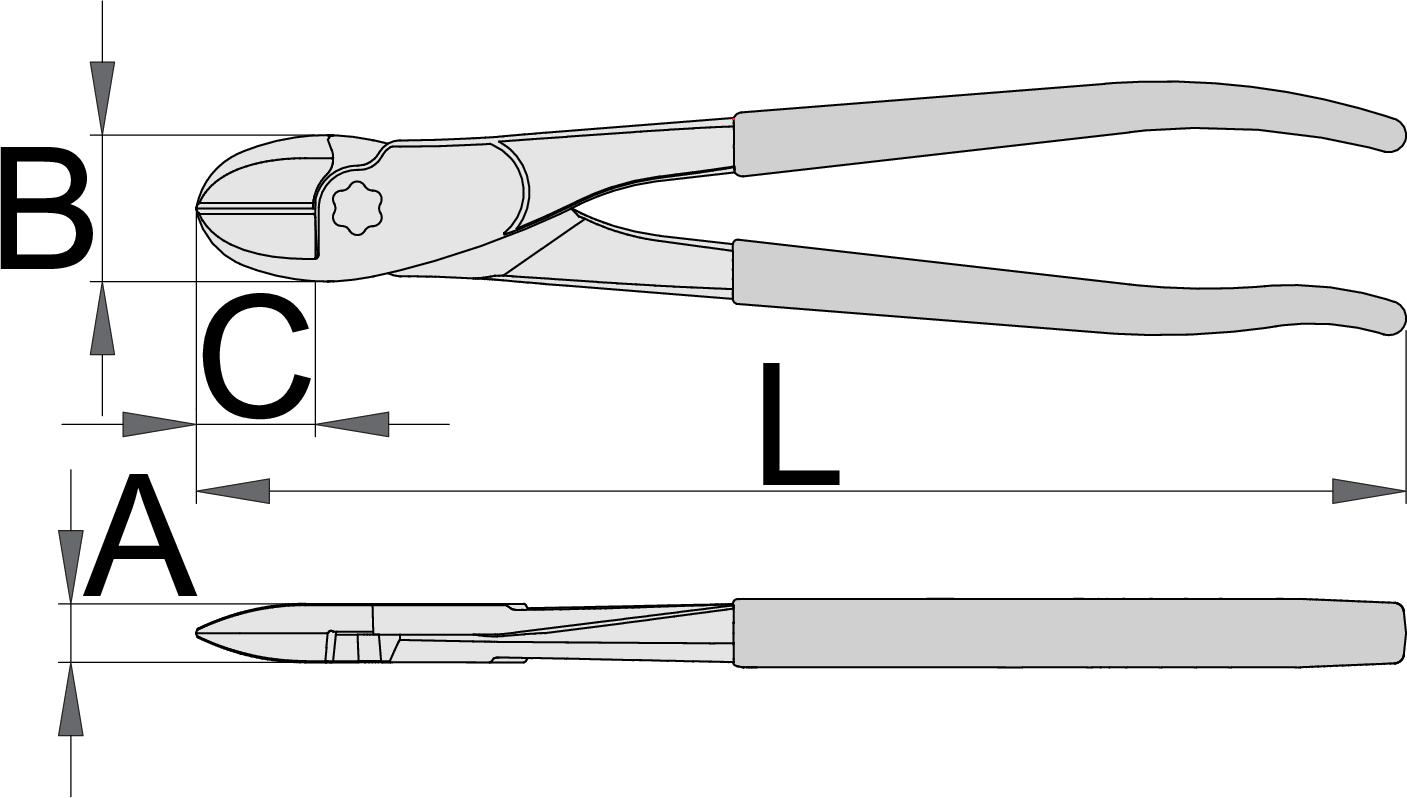 cutting capacity (10N=1kg)
* Imazhet e produkteve janë simbolike. Të gjitha dimensionet janë në mm, pesha në gram.
Questions & Answers
Do the names Shark and Boltshark mean anything?

These names describe the principles behind operating the cutting pliers.
Ergonomik trajton

Me ergonomik trajton dhe një rrokje të projektuar posaçërisht, sipërfaqe Dana UNIOR të dhënë rehati maksimale në punë dhe efikasitet të lartë me tendosje minimale.

Mbrojtja Sipërfaqja

Të Dana janë bërë prej çeliku të shkëlqyer me përbërje të veçantë përmirësuar. Disa modele të vijë me mbrojtje shtesë sipërfaqe krom.

Saktësi të lartë

Me synimet e tyre të përsosur dhe superioritetit teknologjik, Dana UNIOR të siguruar një të mbajë saktësi të lartë në çdo rast të përdorimit të përgjithshëm apo të dedikuar.