celes I kombinaure I hapur dhe I mbyllure I gjate
Product features
The wrench is forged from premium chromium-vanadium steel. The wrench is distinguished by its exceptional toughness, durability and surface protection, which offers the user reliable and long-lasting use. It is an all-round solution for screwing bolts and nuts and an indispensable tool for professionals and DIY enthusiasts alike.
rënie të falsifikuara, ngurtësuar tërësisht dhe nevrik
përfundojë sipërfaqe: krom kromuar sipas ISO 1456:2009
Pjesa unazë me profilin LIFE
bëhet sipas standardit ISO 7738 (vetëm dimension metrikë)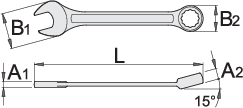 * Imazhet e produkteve janë simbolike. Të gjitha dimensionet janë në mm, pesha në gram.
Gjatë jetëgjatësi

The wrenches are made of Premium chrome vanadium steel with a greater density at the points of the highest pressure, and such dimensioning and manufacture only increase their extreme power and durability.

Prerë siguria

Me prerje të tyre të veçanta të sigurisë, celes të parandaluar dëmtimin e qoshet dhe buzë e vida dhe arra me shpërndarjen e forcës në mënyrë të barabartë mbi sipërfaqen larg nga linjat e jashtme të arrë ose vidhos kokën në vend të drejtpërdrejt në skajet.

Formë inovative

Shtet-e-artit të dizajnit bën kyçe UNIOR garantojë një transferim të saktë dhe efikas të forcës ndaj krerëve vidë dhe arra.