How to adapt to the emerging market situation?
The ability to adapt to the emerging market situation is what distinguishes successful companies from less successful ones!
Because of the entire Covid situation, last year was extremely stressful for both domestic and international economy. Social contacts were paralyzed, and the economy had been even further affected by a significant rise in commodity prices, delays in delivery times and similar problems. Almost all companies in Slovenia and around the world were and still are involved in this vicious cycle. To find out more, we talked to Klavdija Kojc, Commercial Director in the Hand Tools Department at Unior, about the current situation, how to solve problems and what the development opportunities for the future look like. Only those companies that will be able to find a clear strategy, vision and a way to solve the delivery delays we are faced with in these trying times will survive and rise above the competition. On the additional condition, of course, that both quality and professional approach to suppliers as well as customers will not diminish.
The coronavirus pandemic has caused a drastic rise in the price of raw materials in many fields. How has this affected you, has there been an increase in the prices of individual raw materials?
"The ongoing situation is a great challenge for many companies, and of course for us as well. How to adapt our approach to customers in the event of a drastic increase in market prices, how to establish continuous and uninterrupted communication when personal contacts are still partially disabled. The companies were forced to consolidate their previous workflows, upgrade them and adapt them to the situation as much as possible. All the while, they had to maintain their quality standards and a professional approach to the market. The increase in the prices of input materials is a global problem that our company is not immune to, naturally. We procure raw materials in Europe. Some materials, such as sheet metal for example, are now 2.5 times more expensive than they were before the pandemic. In addition to the fact that prices are rising, there are also problems related to delays in deliveries by suppliers, which makes it difficult to plan the production process itself. At the same time, continuous and up-to-date communication with customers who are informed about the situation and who are aware that we invest a lot of effort in fulfilling our obligations to them is crucial."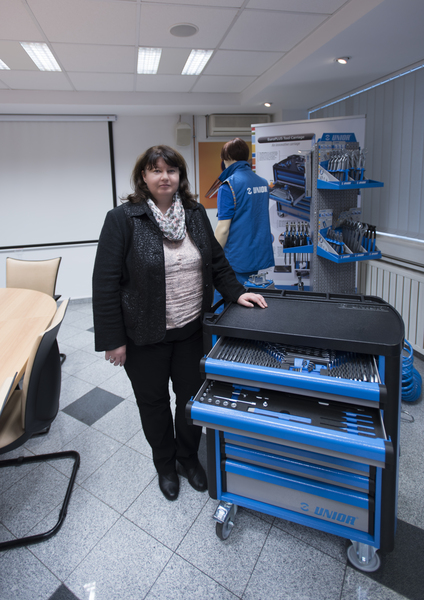 Is this an opportunity for you to find new suppliers or how are you planning to deal with the current situation?
"We are solving the situation in different ways. New supply channels are also opening up, but it is necessary to certify and test the quality of the raw material for each new supplier. This process is rather time consuming. It is important for our production process that both the basic and auxiliary material is of appropriate quality, as this is the only way we can produce high-quality hand tools. We are, of course, constantly striving to achieve just that, not at least because Unior hand tools are globally renowned for their extremely high quality and craftsmanship."
Is the surge in prices something that is happening everywhere, given that the Covid pandemic has spread all over the world?
"It's true, almost all companies have to deal with increased prices of input materials and long delivery times. In addition, we are also limited by the lack of raw materials, as demand is exceeding supply. This is quite evident from news by various media outlets as well as from the consumer buying experience. The price of steel, wood, cardboard, transport, chemicals, foodstuffs etc. has noticeably increased, for example. What this means is that practically all industries are affected by it. Nevertheless, we feel reassured by the fact that the flow of information in this area is very good, because we know that the general public is also aware of the situation and the problems the companies are facing."
How is the general increase in prices of commodities reflected in prices of individual products, were you forced to raise them already?
"We first looked for internal reserves, as we always try to resolve situations by checking what we can do internally before taking other measures. We have increased productivity and streamlined operating costs. We are digitizing production and logistics processes. Of course, we could not fully cover the entire increase in the prices of raw materials with measures alone. We therefore had to transfer one part of the increase in the prices of input raw materials to our sales chain. We launched a new price list at the beginning of August 2021."
In your view, how have customers reacted to the current situation?
"We have long-standing customers who have been working with us and placing their trust in the Unior brand of hand tools for decades, some even for a century. Until now, we have been changing the price list every two years but only with minimal price corrections. Our customers are thus aware that this is not something that we would normally do and rather that the situation has simply pushed us into a "corner", forcing us to at least partially adjust product prices as an answer to rising commodity prices on the market. This year, we initially cancelled promotions and special offers for individual product groups. Once the situation on the supply market calms down and stabilizes and prices start to fall, we will reintroduce a special offer for these specific product groups, however. We also hope that we will soon be able to return to our established rhythm, both in terms of fast delivery of individual products and personal communication with our customers. On the other hand, we upgraded our website, focused on B2C sales and launched trainings on the proper use of tools for our customers during this period and we are currently preparing a technical portal and configurator for drawing out the workplace layout with our metal packaging equipment (trolleys, modular countertops,…). This goes to show that even in these difficult circumstances, we can still offer our customers added value in the field of after-sales services. We are fully aware that only the ability to adapt to the situation on the market will set apart the more successful companies from the less successful ones."