NEW - Extremely large and functional upgraded Jumbo tool carriages 1, 2, and 3
Unior Hand Tools has developed something completely new for professionals, as well as hobby enthusiasts, who will definitely be impressed.
The innovative development was based on recognising the needs of our business partners and customers, striving to develop high quality and functional Jumbo tool carriages offering even more order in the working place. The main goal on the path of our strategic development was, that these tool carriages become an essential piece of equipment for every workshop that wants to improve its services and products
With a century-old tradition, recognising the needs, desires and expectations of our customers is essential for overall progress in the development of individual products. So this time we have developed a completely new line of tool carriages - Jumbo tool carriages - which are characterised by quality materials that provide sufficient durability and long lifespan but their greatest advantage is reflected in the size of their drawers, the working surface and the tool carriages themselves.
The quality is reflected in the drawers which are larger and deeper and equipped with ball-bearing slides and non-slip interior synthetic lining. Through the development we also upgraded the security and added a new block safety system that prevents opening of several drawers at the same time. Tool carriages are also equipped with a central locking system with a lock and a folding key. Each tool carriage is also distinguished by individual features adapted to the nature of the work and needs of our customers. In this way, our customers can completely equip their professional or home workshops and always find the right choice for themselves among various combinations.
The complete line of the new tool carriages also includes accessories: wooden top and wooden working plate with stainless steel. All in order to keep the working surface clean, as the accessories are resistant to oil, grease and other liquids.
Jumbo 1 and Jumbo 2 – 100% pull-out drawers for storing tools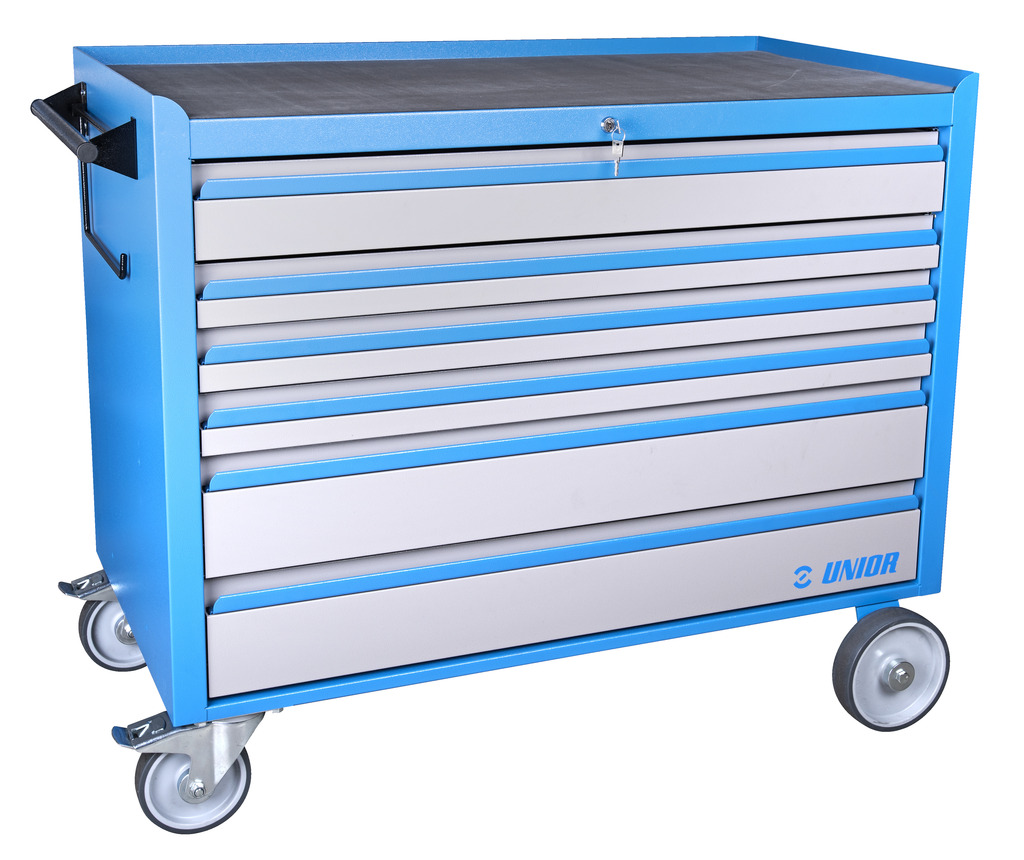 We present to you Unior tool carriage Jumbo 1 and 2, which provide their users sufficient durability and a long lifespan, precisely because of the material from which they are made. They are coated with eco colour of Qualicoat quality standard.
Both tool carriages have a total drawer volume of 400 litres, which enables a dynamic load capacity of up to 600 kg and a maximum drawer capacity of up to 90 kg. They have two casters (diameter of 160 mm) with a brake that blocks spinning and swivelling and two fixed casters with a diameter of 200 mm. In this way, the tool carriages can easily be driven over obstacles and moved to another room. This certainly provides us additional comfort and functional flexibility.
The advantage of the Jumbo 1 tool carriage is its innovative design with extremely large drawers for easy storage of larger tools. In the front, there are 6 drawers compatible with 1/3, 2/3 and 3/3 tool trays. In the first upper drawer, you can insert two 3/3 tool trays and two additional special tool trays.There are no limits for practicality and usability which will give the end users even more flexibility and opportunity to store different types of tools.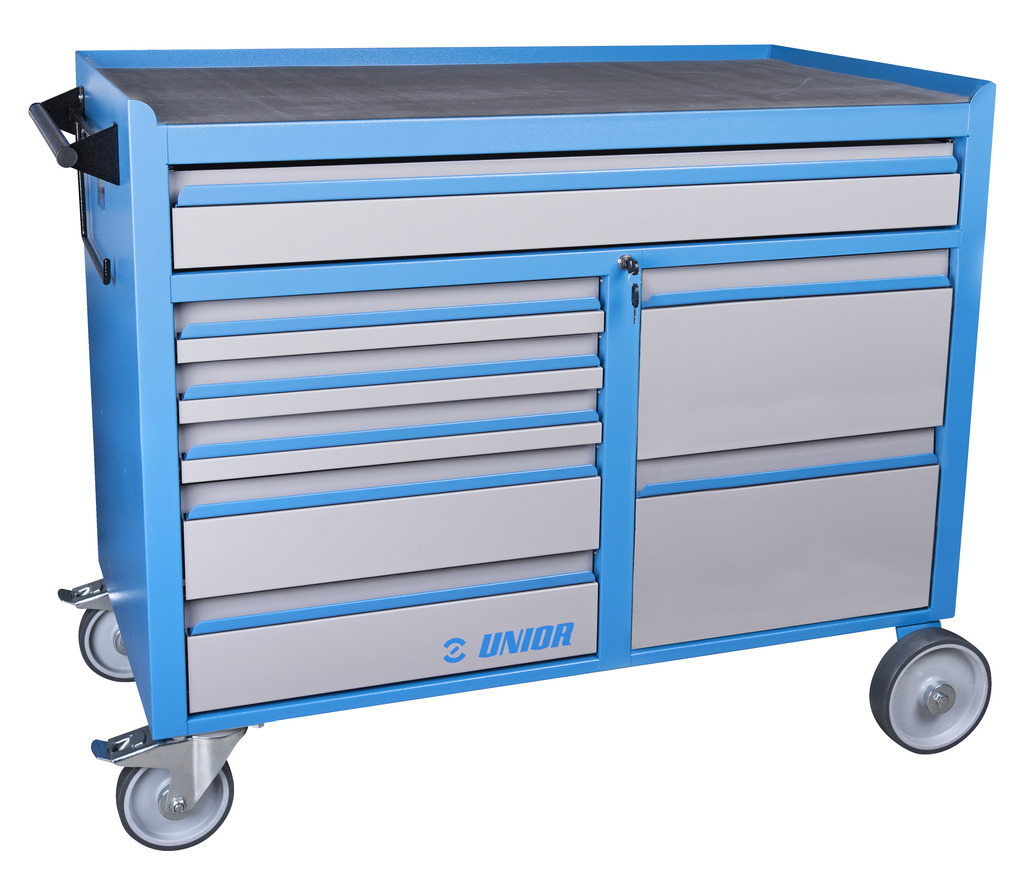 The Jumbo 2 tool carriage has 8 drawers of different sizes in the front, of which 2 of them are in the dimension of 484x605x265 mm for storing larger tools, while the remaining drawers are compatible with a 1/3, 2/3, and 3/3 tool trays. In the longer upper drawer, you can even insert two 3/3 tool trays and two additional special tool trays.
Jumbo 3 – a bit different but still in the same line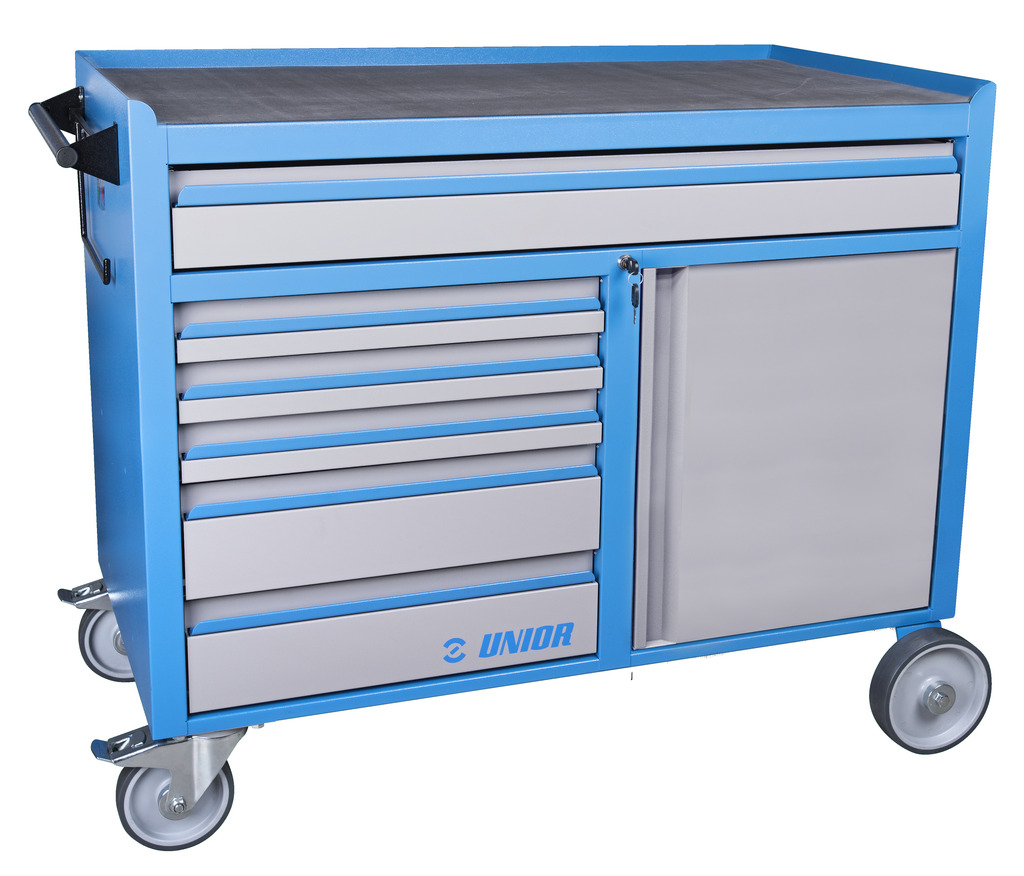 In order to satisfy the diverse needs of our customers, Unior Hand Tools has developed also the Jumbo 3 tool carriage. It´s total drawer volume amounts to 322 litres, it´s dynamic load capacity is up to 600 kg and maximum drawer capacity of up to 90 kg. Its special features are very large drawers and 2 pull-out shelves with door and offers a combined safety block system for opening drawers and a central locking system with a lock and a folding key. The JUMBO 3 includes 6 drawers of different sizes and 2 pull-out shelves for tools in a tool case (special tool case sets) or other larger tools. You can simply place a tool case or tools on a shelf and just push the shelf inside, as the surface of the carriage is large enough, thanks to the extreme depth of the carriage.
Choose your Jumbo tool carriage; a version that suits best to your wishes and needs!