Martin Vugrinec won overall second place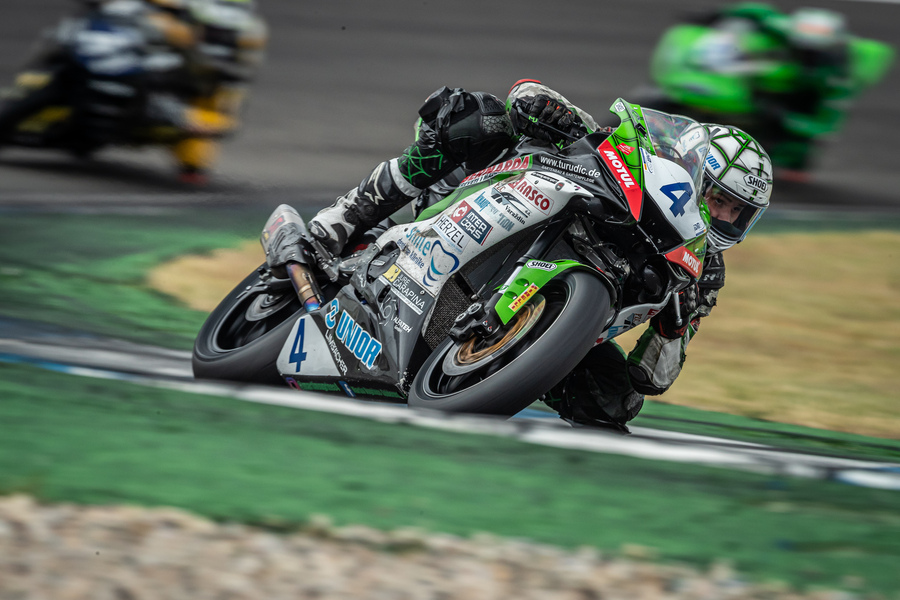 This weekend, the final IDM motorcycle races took place at the Hockenheimring and brought us a day of interesting twists and unpredictable final results. The fans of motorcycling were able to watch the race live in a free broadcast, as it was still not possible to watch the race on the racetrack due to the pandemic. Member of the Unior Racing Team, Martin Vugrinec – Spider Martin, competed in two races on Sunday in the Supersport 600 category. After a magnificent performance at the Lausitzring race track in Germany, where he won first place twice, he raised the expectations and started the race as a candidate to win the overall title of IDM championship in the above mentioned category.
The expectations were really high, but the weather conditions were quite unfavourable for the racers. This caused the young Yamaha driver Spideman Martin to fall on the slippery racetrack during the first race. The fall was a great disappointment, but it did not stop the young driver from chasing extra points in the last race and trying to reach the top step of the podium. Despite the efforts, the fall in the first race cost him much more points than he expected, and the possibility of winning was doubtful. Martin still finished the second race in the afternoon in second place, but due to the results of the first one, he missed the victory in the overall standings by a whisker. Still, he improved his last year's result when he finished on the third step of the IDM podium in the Supersport 600 category.
Luca Grünwald on Kawasaki won the overall title of IDM champion in the end, but he had to work hard for it, as Martin was constantly breathing down his neck. Luca was enthusiastic about the overall victory, since he has not won any of the eight single races up to this point. Third place in the overall went to Max Enderlein, the current defender of last year's champion title. Luca Grünwald celebrated with 131 points, Martin Vugrinec with 124 points and third-placed Max with 115 points.
After the exciting finale, the racers are waiting to prepare for the new part of the season, in which the young Martin Vugrinec plans to fight hard for the title of IDM champion in 2021. Full of enthusiasm, energy and vitality, and above all, driven by an unstoppable desire to win, he says that his rivals will face a tough fight to keep the IDM title next year.