More About Product
Standards
DIN EN IEC 60900 (VDE 0682-201):2019-04; EN IEC 60900:2018
Product features
materiaal: premium plus carbonstaal
gesmeed, volledig gehard en getemperd
snijkanten inductief gehard
afwerking oppervlak: verchroomd volgens EN12540-norm
beantwoordt aan de ISO 5746-norm en EN IEC 60900-norm
Voordelen:
handvatten zijn dubbellagig en tweekleurig geïsoleerd voor extra veiligheid
Belangrijk !
als de tweede laag zichtbaar wordt, vervang dan uw VDE gereedschap door een nieuw stuk.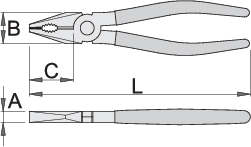 knipcapaciteit (10N=1kg)
| | | | |
| --- | --- | --- | --- |
| 619177 | 140 | 1,6 | 2,0 |
| 619178 | 160 | 1,6 | 2,0 |
| 619179 | 180 | 1,8 | 2,5 |
| 619180 | 200 | 2,0 | 2,5 |
| 619181 | 220 | 2,0 | 3,0 |
* Afbeeldingen van producten zijn symbolisch. Alle afmetingen zijn in mm en gewicht in gram. Alle vermelde afmetingen kunnen variëren in tolerantie.
Safety tips

Pliers should be oiled regularly. A drop of oil at the hinge will lengthen the tool life and assure easy operation.
When cutting wire with pliers, you should always wear glasses or goggles.

Don't use pliers for cutting hardened wire, unless specifically manufactured for this purpose.
Don't expose pliers to excessive heat. This may ruin the tool.
Don't use pliers as a hammer.
Don't hammer on the handles. They may crack or break.
Don't extend the length of plier handles to secure greater leverage.
Don't use pliers on nuts or bolts. A wrench will do a better job and with less risk of damage to the fastener.
Questions & Answers
Are certified insulated tools made through a different procedure than non-certified insulated tools?

The tools are made according to the same procedure.

Are insulated (VDE) tools considered as personal protective equipment (PPE)?

According to EU regulations, VDE tools are not considered as PPE.

Is it possible to work with insulated pliers under electrical voltage?

Yes, but only by professionals who follow safety requirements and use additional personal protective equipment.

Are the VDE tools only being sampled in series production?

The high voltage test (at 10kV) is performed fully on each tool. Other tests are performed in accordance with the EN60900 standard.
Ultieme bescherming

Het Unior geïsoleerde VDE gereedschap biedt ultieme bescherming, zelfs bij werken aan circuits onder spanning tot 1000 V. De bruikbaarheid van het gereedschap is individueel en is grondig gecontroleerd in verschillende testen (slagweerstandstest, elektrische test, vlamvertragingstest, isolatietest en weerstandstest)

Staal van hoge kwaliteit

De geïsoleerde sleutels, tangen, scharen, schroevendraaiers en ander gereedschap om aan elektrische en andere stroominstallaties te werken, zijn gemaakt van staal van hoge kwaliteit met extra bescherming. Bovendien zijn ze ontworpen voor eenvoudig en veilig gebruik.

VDE-bepalingen

Met Unior gereedschap, dat is geïsoleerd en getest volgens de VDE-bepalingen, kan aan elektrische circuits onder spanning gewerkt worden. Bovendien voldoet het gereedschap aan de internationaal herkende Europese EN IEC 60900 -norm.