Feuille de données
Plus d'information sur le produit
ATTRIBUTS DU PRODUIT
This mobile, adjustable, safe and stable trolley ensures that you won't have to take any unnecessary transport routes during your work. It provides a tidy workplace, excellent accessibility to resources, basic tools and documentation. It features a portable work surface, and item security is ensured by a locking system. It is useful in workshops, production and everywhere in lean manufacturing (LMS).
matière : tôle Premium Plus
surface de travail avec plaque format paysage A3
bord surélevé pour éviter le glissement de la plaque
support pour téléphone portable
trous pour ranger les stylos
surface de stockage approfondie pour les accessoires
2 tiroirs L 563 x l 365 x H 70mm
Les tiroirs peuvent être équipés de séparateurs référence 940ES3A ou 940ES3
2 espaces de rangement dans la partie basse du chariot
système de verrouillage centralisé avec clé repliable
roues de diametre 100 mm, dont 1 avec frein, résistantes à l'huile et aux acides
Tiroirs coulissants avec glissières à roulement à billes.
tiroirs recouverts de feutrine
laque éco à la norme Qualicoat
Dimensions poignées et roues incluses L 770 x l 460 x H 1252mm
Capacité de charge des tiroirs : 45 Kg.
tiroirs compatibles avec les modules d'outils SOS 1/3, 2/3, 3/3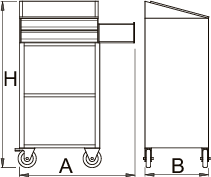 * Les images des produits ne sont pas contractuelles. Toutes les dimensions sont en mm, les poids en grammes.
Safety tips

Lock all your drawers before trying to roll the tool carriage into a new work area.
Set the brakes on the locking casters after you have rolled the cabinet to your work area.
Treat you tool carriage, tool chests, or tool boxes with respect.
Always follow the prescribed max load capacity of individual drawers and the carriage as a whole.
Always put heavier objects in the bottom drawers
Always close drawers when not in use.
Always follow manufacturer manual instructions regarding assembly and repair of your tools.

Don't open two or more drawers at the same time, there is high chance of it tipping over.
Don't throw tools into drawer, always put the tools in.
Don't use an opened drawer as a working surface.
Don't clean a lacquered surface with a solvent cleaner.
Don't pull a tool carriage as you won't be able to see where you are headed. Push it in front of you so you can see where you are going.
Don't stack a tool carriage with too many extra chests or tool trays; it may tip over at the most unexpected time.
Don't roll a tool carriage with loose tools or parts on top of the carriage.
Don't roll a tool carriage too quickly; a pot hole in the floor or some hardware on the floor may cause an accident.
Don't overload the drawers; if you haven't got room for all of your tools, you need a larger tool carriage.
Don't open up too many loaded drawers at a time; close each drawer before opening up another. Heavily loaded opened drawers are an invitation to tipping.
Tôle d'acier de qualité

Chariots, coffres, armoires, boîtes pour outils, ainsi que bancs de travail, supports, crochets et autres accessoires, tous sont fabriqués à partir de tôle d'acier de qualité. Laqués pour résister à la corrosion et aux rayures, nos équipements sont pratiquement indestructibles.

Conception innovante

Une connaissance approfondie de l'ensemble des besoins opérationnels des professionnels sur le terrain nous a permis de créer des gammes d'équipements d'ateliers qui offrent un accès plus facile ainsi qu'un rangement clair et visible des outils à tout instant.

Rangement clair des outils

Grâce à un rangement clair et à un accès facile aux outils, les équipements d'ateliers Unior vous aident à garder votre atelier bien rangé pour ainsi accroître votre productivité.