Product features
materiaali: erikoistyökaluteräs
muottitaottu, täysin karkaistu
leikkuupinnat induktiokarkaistu
pihtien pää pinnoittamaton
pintakäsittely: fosfatoitu ISO 9717 -standardin mukaan
raskaan käytön muovikahvat
kuorintaosa hammastuksella
valmistettu ISO 5745 -standardin mukaan
myös tarttumiseen, erotteluun ja tarkkuutta vaativaan työskentelyyn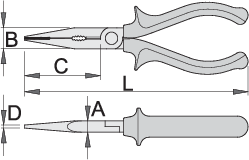 leikkauskapasiteetti (10N=1kg)
| | | | |
| --- | --- | --- | --- |
| 608712 | 140 | 1,6 | 2,0 |
| 608713 | 160 | 1,6 | 2,0 |
* Tuotekuvat ovat suuntaa-antavia. Kaikki mitat on ilmoitettu mm, painot grammoina.
Questions & Answers
The head profile on the screw has deformed to such an extent that it cannot be unscrewed with a screwdriver. Which Unior tool can be used in this case?

407/4DP screw pliers are the best choice for unscrewing screws with a damaged head profile.
Ergonomiset kahvat

Tarkasti suunnitellut ergonomiset kahvat tekevät Unior-pihtien käytöstä mukavaa ja tehokasta.

Pintasuoja

Pihdit valmistetaan korkealaatuisesta, erikoisvalmisteisesta teräksestä. Osa pihdeistä on lisäksi kromattu lisäsuojan vuoksi.

Tarkkuus

Erinomainen suunnittelu ja laadukkaat materiaalit takaavat sen, että Unior-pihdit helpottavat niin harrastajien kuin ammattilaistenkin työntekoa.