Product attributen
material: premium PLUS sheet metal
central locking system with a lock and folding key
lock with key included also foam keyring
oil and acid resistant casters of a diameter of 125mm, one with brake, which blocks spinning and swiveling of the caster
full extension drawers with top quality ball-bearing slides
opening and closing of drawers is very simple due to the uniform solution - drawer handle on the upper side enables users a synchronic grip and opening of a carriage drawer.
drawers with non-slip interior synthetic lining
coated with eco colour of Qualicoat quality standard
7 front drawers (5x L 563 x W 365 x H 70mm, 2x L 563 x W 383 x H 150mm)
basic dimensions with handle and casters L 1182 x W 640 x H 955 mm
total volume of drawers: 133 litres
static load capacity of carriages without casters: 2300 kg
dynamic load capacity of carriages: 550 kg
capacity of front drawers: 45 kg
laden compatibel met SOS-gereedschapsmousse 1/3, 2/3, 3/3
Voordelen:
Perforated wall on the back side of the tool carriage allows hanging tools with tool hooks
As an accessories available also a spray holder for easy storage of sprays up to dia. 68mm, and a back door with a lock
Technische fiche
Meer over dit product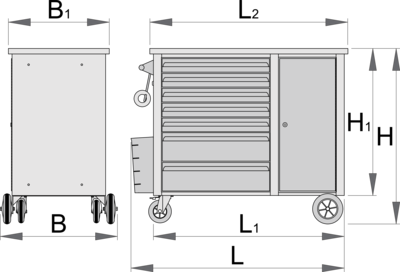 * Images of products are symbolic. All dimensions are in mm, and weight in grams. All listed dimensions may vary in tolerance.
Kwalitatief plaatstaal

Gereedschapswagens, kisten, kasten en diverse boxen voor het opbergen van gereedschap, maar ook werkbanken, statieven, haken en andere accessoires zijn allemaal gemaakt van hoogwaardig plaatstaal. De apparatuur is voorzien van een laklaag die bestand is tegen corrosie en krassen en is praktisch onverwoestbaar.

Innovatief ontwerp

Een uitgebreide kennis van alle werkvereisten van lokale professionals heeft geresulteerd in edities van werkplaatsapparatuur die een grote toegankelijkheid, een duidelijke opslag van gereedschap en een betere zichtbaarheid op elk moment kunnen bieden.

Overzichtelijke gereedschapsopslag

Door de overzichtelijke opslag van gereedschap en de eenvoudige toegankelijkheid helpt de Unior werkplaatsuitrusting u om uw werkplaats op orde te houden en zo uw productiviteit te verhogen.