Bolt cutters with interchangeable triangular cutting edges
Product attributen
material: premium hard chrome vanadium steel
jaws exchangeable and adjustable in three position, entirely hardened and tempered
steel handles, lacquered, heavy duty plastic handles
Voordelen:
extreme strength and minimum weight
outstanding resistance to the maximum forces generated during cutting
complete anti-corrosion resistance
straightforward guidance and proper handling
shock absorber for the prevention of injuries
triangular blade - threefold longer service life
the procedure for adjusting the jaw cutting edges
How to adjust the cutting edges?
Take the screw out of the groove and turn it until there is no spacing between the cutting edges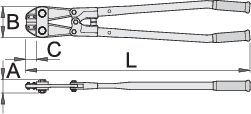 cutting capacity (10N=1kg)
* Images of products are symbolic. All dimensions are in mm, and weight in grams. All listed dimensions may vary in tolerance.
Veilige snede

Ontworpen voor een veilige en nauwkeurige snede door plaatstaal, betonwapening, draden, kabels en PVC-buizen, maar ook voor snoei- en druivenscharen voor werkzaamheden in boom- en wijngaarden, bewijst de gevarieerde Unior scharenlijn zijn voordelen in een breed scala aan professionele en huishoudelijke toepassingen.

Staal van hoge kwaliteit

De Unior scharen zijn gemaakt van hoogwaardig koolstofstaal, hebben gesmede bekken inductiegeharde messen en stevig geïsoleerde handgrepen, en zijn bovendien voorzien van een efficiënte oppervlaktebescherming.

Verharde messen

Met perfect getemperde messen kunt u dit moeiteloos en met geweldig resultaat doen!