Product attributen
material: premium plus carbon steel
drop forged, entirely hardened and tempered
the cutting edges are induction-hardened to 61HRc
head surface finish: finely ground
surface finish: phosphated to standard ISO 9717
made according to standard ISO 9242
Voordelen:
the precise form of the joint enables the automatic opening of the pincers in a horizontal position, so the force is applied only during cutting of the wires
Gebruik:
useful for the binding and cutting of wires
Standaard
DIN ISO 9242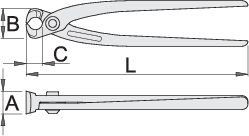 * Images of products are symbolic. All dimensions are in mm, and weight in grams. All listed dimensions may vary in tolerance.
Ergonomisch gevormde handvaten

Met ergonomische handvaten en speciaal ontworpen grip, het oppervlak van Unior tangen geeft een maximaal comfort en hoge efficiëntie met minimale inspanning.

Bescherming van het oppervlak

De tangen zijn gemaakt van excellent staal met een speciale verbeterde samenstelling. Meerdere modellen hebben een speciale oppervlaktebescherming in chroom.

Hoge precisie

Met hun perfect design en technische hoogwaardigheid verzekeren Unior tangen een hoge precisie en elke omstandigheid bij algemeen of speciaal werk.