dop om tappen te verwijderen
Product attributen
material: premium flex chrome vanadium steel
surface finish: chrome plated according to ISO 1456:2009
Voordelen:
roller system grips on to stud, in both directions
How to use the tool:
1. Position roller-type stud extractor on stud
2. START turning stud extractor COUNTER CLOCK wise
3. When stud removed, simply pull down stud extractor
Important!
Do not use roller-type stud extractor for tightening!
Studs are screws without a surface that can be gripped, which prevents their removal without damaging them. This tool is intended to do exactly that – removing studs without damaging the threads. The tool works through a system of three rollers that grip the stud at three points during removal, removing the stud without damaging it. The three rollers have no sharp edges, enabling removal without causing damage as they. Despite this, the tool can work in both directions. Tightening with the tool is not recommended though as the increased force in tightening could damage the system of rollers, which are dimensioned solely for loosening.
Technische fiche
Meer over dit product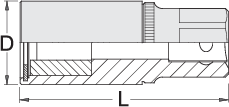 * Images of products are symbolic. All dimensions are in mm, and weight in grams. All listed dimensions may vary in tolerance.
Bescherming van het oppervlak

Gereedschappen zijn gemaakt van een uitstekende staal samenstelling. Verschillende modellen zijn voorzien van een extra verchroomde oppervlaktebescherming.

Ergonomisch handvat

Met ergonomische handvaten en speciaal ontworpen grip, het oppervlak van Unior tangen geeft een maximaal comfort en hoge efficiëntie met minimale inspanning.

Hoge precisie

Met hun perfecte ontwerp en technologische superioriteit zorgen Unior automotive tools voor een hoge mate van precisie in elk geval van algemeen of specifiek gebruik.