Hub and wheel drum puller
Product attributen
material hook cups: chrome molybdenum
with five extractor hooks
for extracting wheel hubs, up to a hole diameter of 250 mm
This tool is intended for the disassembly of various wheel hubs. It is designed for simple and flexible use. With the extractor hooks supplied, the hubs can be removed with three, four or even five hooks, depending on the type of hub. Because its use is extremely flexible due to the five extractor hooks, the tool is useful for the majority of hub types up to a diameter of 250 mm. The tool consists of a spindle, five extractor hooks and forged hook handle. The handle also has an additional notch that prevents the extractor hooks from sliding off the tool during the assembly or disassembly of the hub. The strong construction allows safe and long-term use with high loads. We recommend that you do not use pneumatic hammers!
How to use the tool:
1. Assemble tool, mount only number of extractor hooks needed
2. Mount extractor hooks to wheel drum
3. Turn spindle to start pulling wheel drum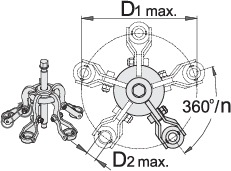 * Images of products are symbolic. All dimensions are in mm, and weight in grams. All listed dimensions may vary in tolerance.
Bescherming van het oppervlak

Gereedschappen zijn gemaakt van een uitstekende staal samenstelling. Verschillende modellen zijn voorzien van een extra verchroomde oppervlaktebescherming.

Ergonomisch handvat

Met ergonomische handvaten en speciaal ontworpen grip, het oppervlak van Unior tangen geeft een maximaal comfort en hoge efficiëntie met minimale inspanning.

Hoge precisie

Met hun perfecte ontwerp en technologische superioriteit zorgen Unior automotive tools voor een hoge mate van precisie in elk geval van algemeen of specifiek gebruik.