Pro repair stand with double clamp, manually adjustable, without plate
Product attributen
Repair bike stand with two clamps is designed for service workshops and more demanding users.
Stand enables work for two mechanics at the same time on two bikes.
The new plastic cup enables storage of tools and spare parts.
Additional accesories - paper roll holder.
Stand is adjustable by height between 947 and 1570 mm.
Suitable for tubes with diameter of min. Ø24 mm and max. Ø40 mm.
Replaceable rubber jaw covers, item 1693.11
Repair bike stand 1693C1,1693CS1 in 1693CS2 is designed for floor or ceiling mount.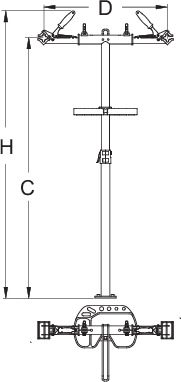 * Images of products are symbolic. All dimensions are in mm, and weight in grams. All listed dimensions may vary in tolerance.
Nieuwe geavanceerde technologie

Het gebruik van nieuwe technologische methoden en hoogwaardige materialen resulteren in gereedschappen met een lange levensduur, veiligheidsontwerpen zorgen voor reparatiewerkzaamheden zonder schade, aangepaste oplossingen, uitstekende effectiviteit, moderne materialen en een ergonomisch ontwerp zorgen voor een goed uiterlijk en veilig gebruik.

Op maat gemaakte oplossingen voor uitstekende resultaten

Onze oplossingen bieden flexibiliteit aan de fietsonderdelen van alle producenten. Onze traditie, ons eigen ontwerp en de constante technische ontwikkeling en moderne technologie houden ons een stap voor.

Uitstekende duurzaamheid

Unior handgereedschap maakt vele klussen sneller af en maakt het werken in krappe ruimtes gemakkelijker. Ze zijn aangepast aan het werk op de nieuwste fietsmodellen.