Product attributen
materiaal: speciaal gereedschapsstaal
Accepts wheels from 16 to 29 inch with or without tire.
Supports hubs up to 157 mm width.
Truing of 20 mm or other dimension axle wheels requires additional adaptors.
This stand for professional use is specially designed for bicycle repair shops. It can be bench-mounted or vise-held.
The calipers enable simultaneous radial control of the wheel position on both sides, with an additional possibility to control radial symmetry in relation to the hub.
De vorm van de calibers biedt simultane axiale controle bij het richten van de velg.
The calipers have plastic coated tips to prevent scratching the rim.
The upright arms position can be adjusted with an upright adjustment knob to fit the axle width. The caliper arm position can be adjusted to fit the wheel radius and the caliper tip distance can be adjusted to fit the rim width.
When changing the wheel, the spring loaded upright arms and the caliper arm can be quickly pulled away, automatically springing back to a set position when inserting a new wheel. This enables faster truing of several same size wheels.
Truing control of brake rotors can be done with additional calipers inserted into slots in the upright arm.
Additional holes are useful for storing all the three dimension hubs inserts 1689.3 (12, 15 and 20 mm).
Additional nuts in the bottom part of the stand enable easy tightening to a workbench.
Important!
1689 professional wheel centering stand arm can get out of center after being used frequently. Controlling caliper arm enables us, to calibrate the stand arm back to its center position.
Technische fiche
Meer over dit product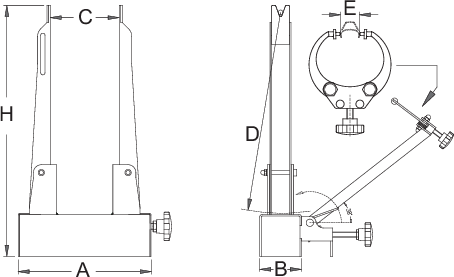 * Images of products are symbolic. All dimensions are in mm, and weight in grams. All listed dimensions may vary in tolerance.
Nieuwe geavanceerde technologie

Het gebruik van nieuwe technologische methoden en hoogwaardige materialen resulteren in gereedschappen met een lange levensduur, veiligheidsontwerpen zorgen voor reparatiewerkzaamheden zonder schade, aangepaste oplossingen, uitstekende effectiviteit, moderne materialen en een ergonomisch ontwerp zorgen voor een goed uiterlijk en veilig gebruik.

Op maat gemaakte oplossingen voor uitstekende resultaten

Onze oplossingen bieden flexibiliteit aan de fietsonderdelen van alle producenten. Onze traditie, ons eigen ontwerp en de constante technische ontwikkeling en moderne technologie houden ons een stap voor.

Uitstekende duurzaamheid

Unior handgereedschap maakt vele klussen sneller af en maakt het werken in krappe ruimtes gemakkelijker. Ze zijn aangepast aan het werk op de nieuwste fietsmodellen.