Pneumatic reversible ratchet
Meer over dit product
Profielen








Product attributen
free speed 250 revolution per minutes
maximum air pressure: 6,2 Bar
Voordelen:
fast and handy adjustment of the rotation direction
sluice-gate enabling prevention of air inlet into the tool
Gebruik:
larger construction machinery
Belangrijk!
The use of Unior IMPACT sockets is recommended.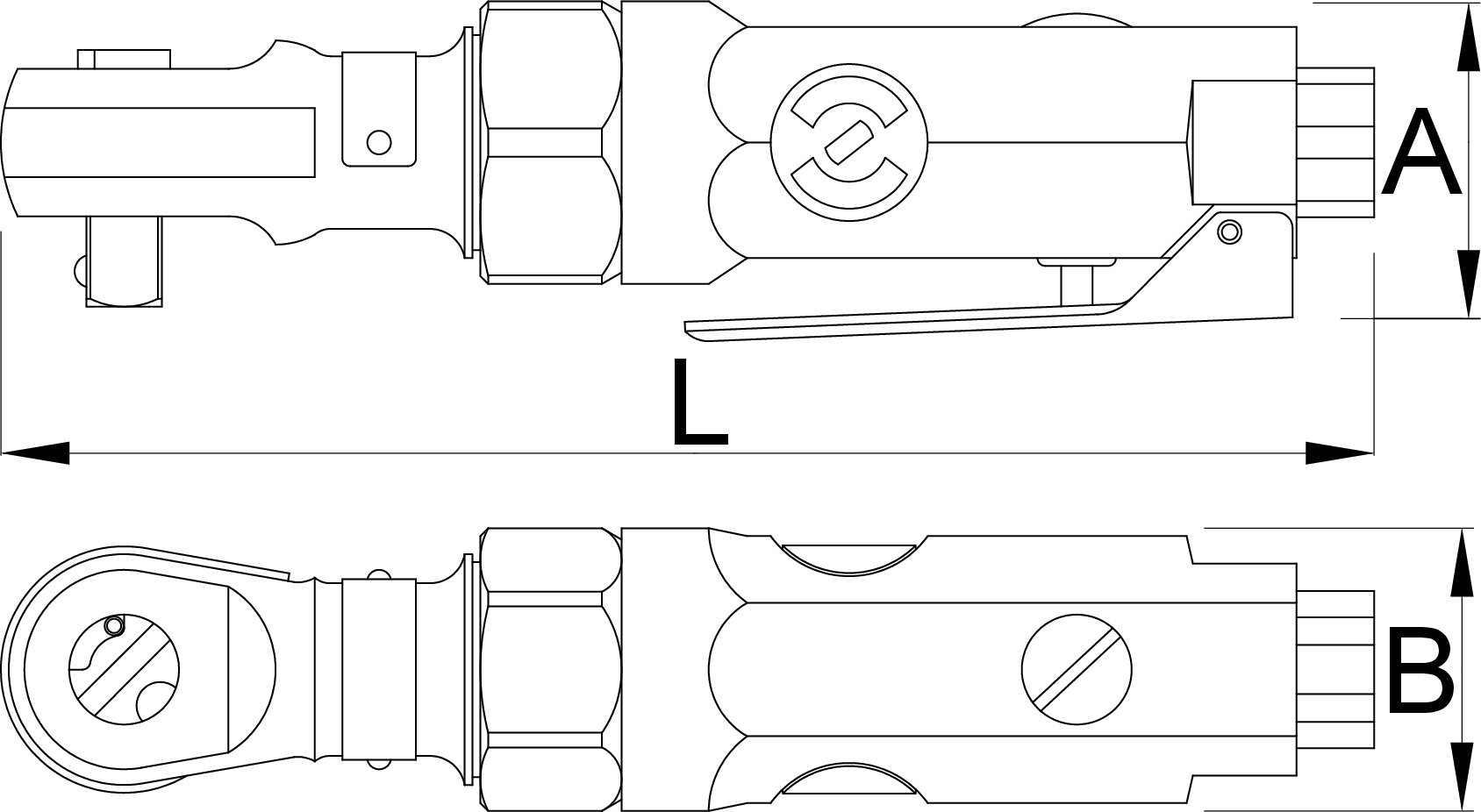 * Afbeeldingen van producten zijn symbolisch. Alle afmetingen zijn in mm, en het gewicht in grammen. Alle vermelde afmetingen kunnen variëren in tolerantie.
Safety tips

The pressure in the tool during the operation has to be at least 6.2 bar for the tool to work properly.
Regularly clean and dry the air filters and inlet air supply.
Always use clean and dry air with the correct mixture of oil, for maximum tool life.
Check the joints and ensure that the tubes and other equipment are not damaged before use.
All tools should be gently oiled prior to being stored.
Always store pneumatic tools in dry places away from water.
Always use original spare parts.
Repairs can be performed only by authorised staff people authorised by Unior d.d.

Always disconnect tools not in use from the air supply.
Ergonomische grip

De Unior luchtgereedschappen zijn voorzien van een ergonomische handgreep voor eenvoudige bediening, terwijl hun robuuste behuizing een lange levensduur garandeert, zelfs onder de zwaarste omstandigheden op de bouwplaats. De superieure kwaliteit van de materialen en de hoge precisie van het aandrijfmechanisme staan garant voor een perfecte werking bij een hoog koppel, terwijl de bedieningskoppen van het gereedschap warmtebehandeld zijn om grote belastingen en langdurig gebruik te kunnen weerstaan.

Efficiënte uitvoering

Dankzij de kracht van perslucht maken Unior pneumatische gereedschappen een snelle en eenvoudige, veilige en efficiënte uitvoering van diverse werkzaamheden mogelijk. Speciale gereedschappen vergemakkelijken het werk in autoreparatiebedrijven en in de bouw- en houtindustrie.

Hoogste veiligheidsstandaard

Unior luchtgereedschappen onderscheiden zich door hun hoge kwaliteit en veilige werking die voldoen aan de hoogste veiligheidsnormen. Door het eenvoudige gebruik is het gereedschap geschikt voor zowel de doe-het-zelver als de professionele gebruiker, die kan kiezen uit verschillende pneumatische ratels, luchthamers en sets met verschillende accessoires en uitbreidingen.