Product attributen
material: premium chrome vanadium steel
drop forged, entirely hardened and tempered
surface finish: phosphated to standard ISO 9717
made according to standard DIN 894
Gebruik:
In industry for working on machines, engines and other equipment.
larger dimensions are useful in shipbuilding, the oil industry and other heavy industries where larger machines and equipment are used
this wrench is especially suitable for work that requires higher torque and more leverage in difficult to reach areas
Technische fiche
Meer over dit product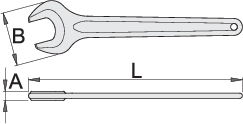 * Images of products are symbolic. All dimensions are in mm, and weight in grams. All listed dimensions may vary in tolerance.
Lange levensduur

De sleutels zijn gemaakt van hoogwaardig chroom-vanadiumstaal met een grotere dichtheid op de punten waar de druk het grootst is, deze dimensionering en productie verhogen alleen maar hun extreme kracht en duurzaamheid.

Veiligheidssnede

Met hun speciale veiligheidssnede voorkomen de sleutels het beschadigen van hoeken en randen van de schroeven en moeren door de kracht gelijkmatig over het oppervlak te verdelen, weg van de buitenste lijnen van de moer of de schroefkop, in plaats van direct op de randen.

Innovatief ontwerp

Het state-of-the art ontwerp maakt dat Unior sleutels garant staan voor een nauwkeurige en efficiënte krachtoverbrenging naar schroefkoppen en moeren.