Unior enters moto world with specialized tools for moto mechanics
Through the development of moto tools and as a technical partner of the RW Fieten Olie Racing Team, Unior has shown a quality approach to helping mechanics achieve the best results from their riders.
TT Assen MOTO GP race - By being a technical partner of RW Fieten Olie Racing Team, Unior moto tools showed quality approach in helping mechanics to get their moto riders the best results.
This weekend TT Assen, also called as the Cathedral of speed, hosted MOTO GP race, where more than 160.000 people and supporters of their drivers visited the venue. Assen is also the only place to have held a round of the Motorcycle World Championship every year since its creation in 1949. And by being in their hometown RW Racing Team prepared a special surprise for their partners and supporters. With a technical support from Unior moto tools for their mechanics they also showed that having a quality and professional tool is very important when competing with the best in Moto2 race segment.
The circuit in Assen was purpose built for the Dutch TT in 1955, with previous events having been held on public roads. The track is narrow, with rapid changes in direction, and is fully surrounded by grass banks and grandstands, providing excellent viewing for the hundreds of thousands of fanatical spectators who are drawn to the most prestigious event in Dutch motorsport every year. A huge favourite with riders, Assen is well known for its festive and extravagant atmosphere. And this is also how it was this weekend. Not only Moto2 but also MOTO GP race was very tight and tense, the heat was high also at the mechanical place, because we saw many falls during the races.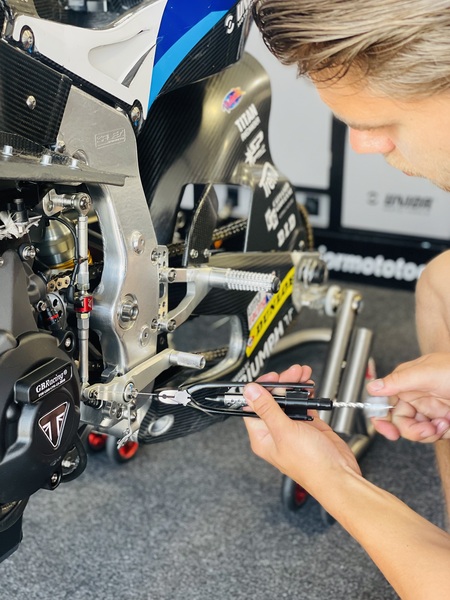 This weekend was also a breaking point for Unior that represented a new series of moto tools for high and optional performance on the asphalt. Tools that RW Racing Team (that Unior is given all the technical support to their mechanics and riders) is already working with. Tomislav Brkljačić, manager of Unior moto tools explains:
"By being a number one tool (choice or brand) in bike segment Unior decided that it is time to enter moto industry, by developing specialized and quality equipment and tools for not only road riders, but also MX and enduro Passionist. This time in Assen we represented special tool equipment, developed in association with mechanics and created especially for their needs and support. This meticulously crafted set of high-performance tools empowers you to fine-tune your machine for optimal performance on the road or on the racetrack. From tire changes to brake adjustments, including everything you need to maintain your road racer with confidence. We believe that by giving RW Racing Team the technical support they need we will show that Unior moto tools can become number one tools also on the moto segment. And the best place to show that is at MOTO GP races, that have more than 160.000 viewers live and millions true TV screens."
RW Racing team showed satisfaction with results at TT Assen
After a difficult start to the weekend at the TT Circuit Assen, the Moto2 race was on the programme for Fieten Olie Racing GP on Sunday afternoon. Barry Baltus rode a strong opening phase and was in 11th position halfway through the race. However, he faced a tire problem which meant the pace had to be dropped a little in the closing stages of the race. In the end, Baltus crossed the finish line in twelfth position and scored four points for his team. With a total of 24, the Belgian rider is currently fifteenth in the world championship.
After his heavy crash on Friday and a difficult qualifying session on Saturday, the 22-lap race was going to be a tough challenge for Zonta van den Goorbergh anyway. In the early stages the Dutchman got to the front but as the race progressed, the pace dropped. In the end, Van den Goorbergh crossed the finish line in 20th place at his home race.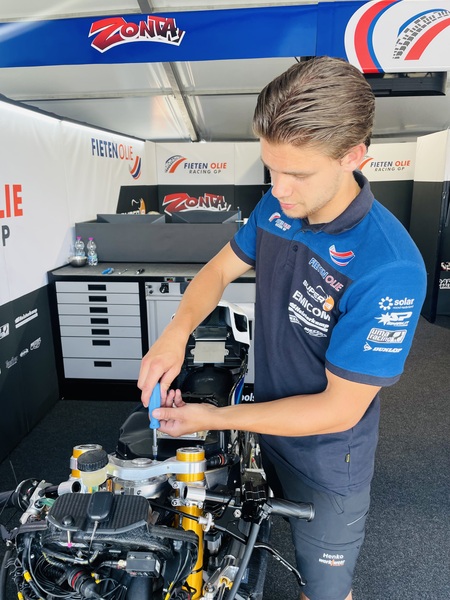 Jarno Janssen – Fieten Olie Racing GP team manager explains: "Both riders gave their best in Assen. Given the course of the weekend, it was going to be a difficult task for Zonta but he held his own. Unfortunately, there was nothing more in it, but we know his time is yet to come. That we didn't achieve the goal of points in Assen now is unfortunate, but we must move on. Barry rode a very strong race, unfortunately he faced rear tire problems. It was a strange situation and as a result he had to give up a few positions in the last laps after riding in eleventh place before that. Twelfth place is a nice result and a good ending to this special weekend in Assen."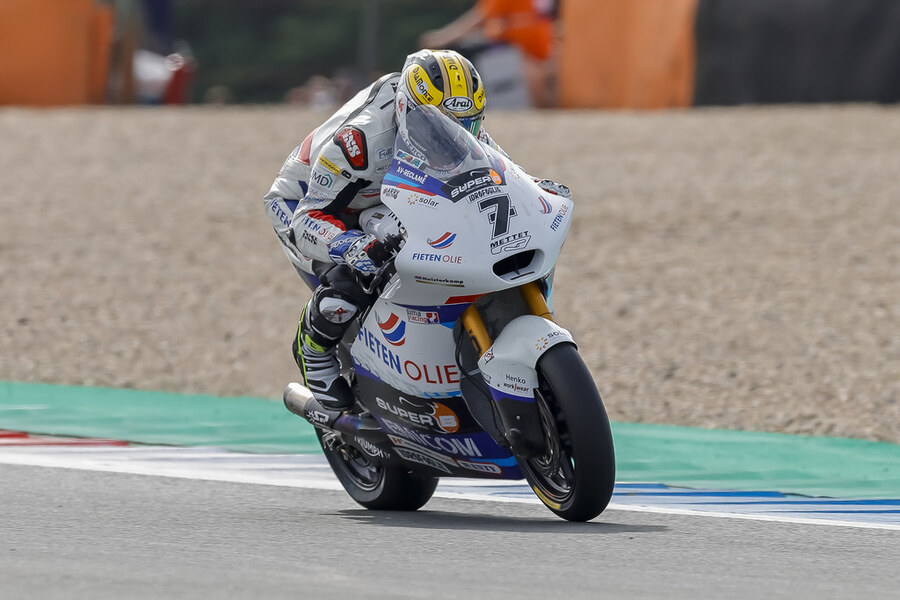 After a busy early phase of the season with two tests and eight Grand Prix weekends, the last three of which were back-to-back, the riders and the team now have a five-week summer break. The next Grand Prix will be held at Silverstone in Great Britain on the weekend of 6-8 August.