Sledeći D.
Multidisciplinarni pristup razvoju
Unior is always considering users' needs when developing tools. By constant improvement of materials, new ergonomic solutions and the consideration of all safety aspects, the company has for decades proved to be the true partner of professional tool users. Unior is constantly monitoring the needs of professional users and consequently developing functional novelties - in compliance with the latest standards and trends on the international market. Original solutions assure excellent functionality, ergonomics provides more comfort at work and safety elements prevent injuries. Work is done faster and easier when using Unior tools.  The development of tools for different purposes is based on computer modelling that is performed with the help of the most sophisticated computer programmes. The team of highly experienced specialists for individual fields participates in the development programme.
Alati proverenog kvaliteta
Unior ručni alati proizvode se u skladu sa evropskim i međunarodnim standardima kvaliteta. Kao punopravni član Evropskog komiteta za alat CEO (European Tools Committee) ** Unior osigurava visok kvalitet ručnih alata i među prvim proizvođačima ručnih alata u Europi dobio je ** sertifikat kvaliteta ISO 9001, ** za razvoj, proizvodnju i marketing ručnih alata, limenih delova za ručne alate i mehaničku obradu kovanih delova.
Unior alati se proizvode ** u skladu sa DIN standardom **. Od 1991. godine alati za rad pod visokim naponom ponosno poseduju ** VDE sertifikat **, koji izdaje VDE Institut- "Pruf und Zertifizierungsinstitut" iz Offenbacha u Nemačkoj.
Unior posluje po ** EFQM modelu izvrsnosti **. Svi zaposleni su uključeni u procese stvaranja poboljšanja kvaliteta i učenja jedni od drugih. Osiguravajući kvalitet, Unior sarađuje sa dobavljačima, kupcima i drugim partnerima.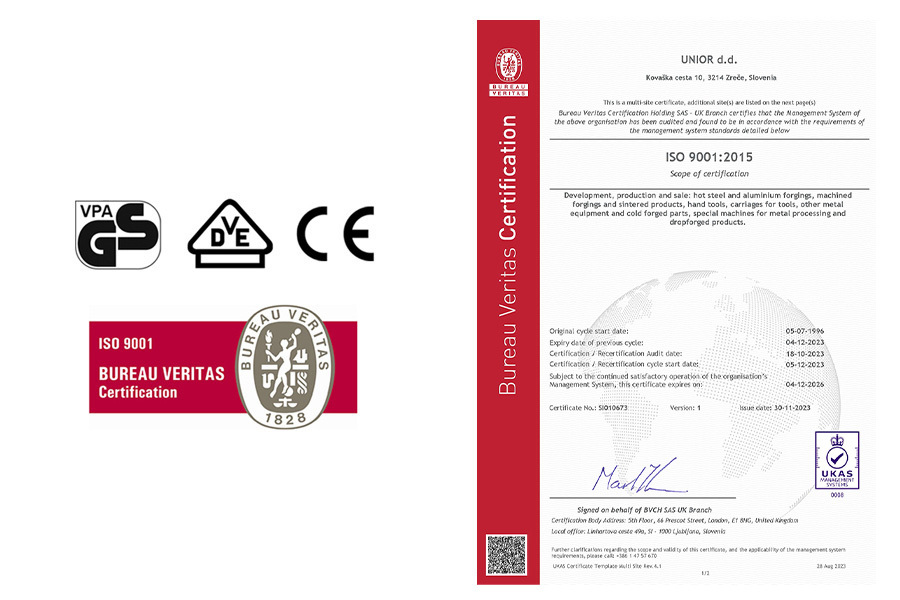 Uniorova globalna ekspertiza i upotreba odličnih mašina i ostale opreme angažovani su u svim ključnim fazama; od mehaničke i termičke obrade do površinske obrade i zaštite hladnog kovanja.
Upravljanje okolišem
Unior company takes into great account environmental protection, when it goes to production processes. Therefore, we have established an environmental management system that is in accordance with the requirements of the international standard ISO 14001. It deals with different aspects: environmental protection, emergency procedures and safety at work.
Program upravljanja okolišem uključuje ** smanjenje potrošnje resursa, poboljšanje produktivnosti njegovih tehnoloških procesa i smanjenje negativnih utjecaja na okoliš. **