Kliješta za sječenje žice, kosa, robusna
Atributi proizvoda
materijal: Premium Plus ugljični čelik
kovana, potpuno poboljšana i ojačana
rezni rubovi induktivno kaljeni
završna obrada: kromiranje po standardu ISO 1456:2009
izrađeno po standardu ISO5749 i EN IEC 60900
Prednosti:
ručke izolirane sa dva izolacijska sloja u dvije boje, koje omogućavaju dodatnu sigurnost
Alat Unior je prilagođen radu na visini i održava osnovne funkcije alata
na svakom je alatu označena težina alata
Važno!
ukoliko drugi sloj postane vidljiv, alat zamijenite novim.
Izolirani alat nije namijenjen za upotrebu s karabinama, već s lancem.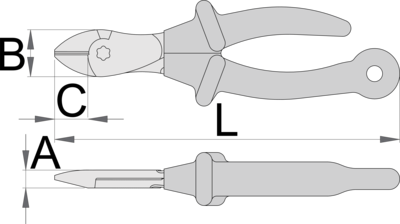 cutting capacity (10N=1kg)
* Slike proizvoda su simbolične. Sve dimenzije su u mm, masa je u g.
Safety tips

Always change tools in secure areas where there is no risk of falling tools.
Always use tools with Unior carabiners and never use carabiners with a diameter less than 6mm.
Tools being used at height should regularly be checked for damage and that there is no damage to lanyards, carabiners, attachment rings or belts.

Don't use tools without attaching them to your work belt when working at height.
Don't use and fix damaged tools.
Don't exceed maximum weight of 2.3kg for individual tools that a worker can attach to their belt.
Questions & Answers
Are certified insulated tools made through a different procedure than non-certified insulated tools?

The tools are made according to the same procedure.

Are insulated (VDE) tools considered as personal protective equipment (PPE)?

According to EU regulations, VDE tools are not considered as PPE.

Is it possible to work with insulated pliers under electrical voltage?

Yes, but only by professionals who follow safety requirements and use additional personal protective equipment.

Are the VDE tools only being sampled in series production?

The high voltage test (at 10kV) is performed fully on each tool. Other tests are performed in accordance with the EN60900 standard.
Visoko učinkovita rješenja

Rad na visini je povezan s velikim rizikom, zato sigurnost mora biti na prvom mjestu. Unior-sinonim za kvalitetni ručni alat, koji smo nadogradili posebno za rad na visini kako bi smanjili mogućnost ozljeđivanja.

Kvalitetan alat za sigurnosni rad na visini.

Alat za rad na visini standardni je alat s nadogradnjom - mogućnost osiguravanja, vezanjem za remen. Povezani alat značajno poboljšava sigurnost posla.

Visoka preciznost

Alat smo doradili tako da su sačuvane njegove osnovne ergonomske funkcije, ergonomija i uporaba odnosno smanjene su u najmanjoj mogućoj mjeri.