Tietolomake
More About Product
Product features
The wrench is forged from premium chromium-vanadium steel. The wrench is distinguished by its exceptional toughness, durability and surface protection, which offers the user reliable and long-lasting use. It is an all-round solution for screwing bolts and nuts and an indispensable tool for professionals and DIY enthusiasts alike.
materiaali: kromivanadiini
muottitaottu, täysin karkaistu
pintakäsittely: kromattu standardin ISO 1456:2009 mukaisesti
valmistettu ISO 10102 -standardin mukaan (vain mm mitoissa)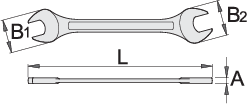 * Tuotekuvat ovat suuntaa-antavia. Kaikki mitat on ilmoitettu mm, painot grammoina.
Pitkäikäinen

The wrenches are made of Premium chrome vanadium steel with a greater density at the points of the highest pressure, and such dimensioning and manufacture only increase their extreme power and durability.

Turvakatkaisu

Erityisen, vääntövoimaa tasaisesti jakavan turvamuotoilunsa ansiosta Unior-vääntötyökalut vähentävät pulttien ja mutterien kulmiin kohdistuvaa painetta, mikä vähentää myös niiden vahingoittumisen riskiä.

Innovatiivinen suunnittelu

Huippuluokan suunnittelulla Uniorin jakoavaimet takaavat tarkan ja tehokkaan voimansiirron ruuvinkantoihin ja muttereihin.