Destornillador extracorto Phillips
Características del producto
Hoja: acero al cromo vanadio molibdeno
Hoja cromada, punta pavonada
fabricado completamente de acuerdo con ISO 8764-1,2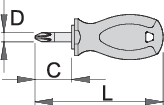 * Las imágenes de los productos son simbólicos. Todas las dimensiones son en mm, peso en gramos.
Consejos de seguridad

Use a screw holding screwdriver to get screws started in awkward, hard-to-reach areas.
Use a stubby screwdriver in close quarters where a conventional screwdriver cannot be used.
A rounded tip should be redressed with a file; make sure edges are straight.
Screwdrivers used in the shop are best stored in a rack. This way, the proper selection of the right screwdriver can be quickly made.
Keep the screwdriver handle clean; a greasy handle is apt to cause accidents.
A screwdriver should never be used as pry bar. If it is overstressed in this manner, the blade might break and send a particle of steel into the operator's arm or even towards his eyes.

Don't use pliers on the handle of a screwdriver to get extra turning power. A wrench should only be used on the square shank or bolster of a screwdriver that is especially designed for that purpose.
Don't expose a screwdriver blade to excessive heat as it may reduce the hardness of the blade.
Don't use a screwdriver with a split or broken handle.
Don't use a regular screwdriver to check a storage battery or to determine if an electrical circuit is live.
Preguntas y respuestas
Can you hit the screwdriver?

No, you should not hit the screwdriver.

How do we clean a multi-component handle?

With cleaning agents designed for PP/TPE material.

Can a screwdriver with a PH tip be used for PZ cross head screws?

Its use is not recommended as this can cause damage to the screw.
Mangos de diseño ergonómico

La calidad superior de los materiales utilizados en la línea Unior de destornilladores se encuentra complementada por los mangos de diseño ergonómico que proporcionan un excelente agarre.

Mango de tres componentes

Con su combinación de superficies blandas y duras, el mango especial de tres componentes– una patente Unior - garantiza la comodidad y el eficiente rendimiento con un mínimo esfuerzo en la muñeca durante el trabajo.

Agarre antideslizante

Los destornilladores UNIOR, capaces de adaptarse a una gran variedad de modelos de tornillos y con unos innovadores mangos tricomponentes aseguran una gran efectividad con un óptimo agarre antideslizante.