Alicate para telefonistas
Ficha de datos
Más sobre el producto
Características del producto
Material: composición especial para temple y endurecimento
totalmente templado y revenido
filos templados por inducción
Acabado cromado según ISO 1456:2009
mangos en doble componente para trabajos duros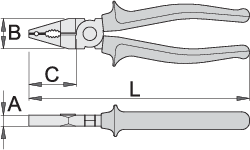 capacidad de corte ( 10N=1Kg)
* Las imágenes de los productos son simbólicos. Todas las dimensiones son en mm, peso en gramos.
Consejos de seguridad

Pliers should be oiled regularly. A drop of oil at the hinge will lengthen the tool life and assure easy operation.
When cutting wire with pliers, you should always wear glasses or goggles.
Handles are provided for comfort. They are not intended to give user any degree of protection against electric shocks and should never be used on live electric circuits.

Don't use pliers for cutting hardened wire, unless specifically manufactured for this purpose.
Don't expose pliers to excessive heat. This may ruin the tool.
Don't use pliers as a hammer.
Don't hammer on the handles. They may crack or break.
Don't extend the length of plier handles to secure greater leverage.
Don't use pliers on nuts or bolts. A wrench will do a better job and with less risk of damage to the fastener.
Preguntas y respuestas
The head profile on the screw has deformed to such an extent that it cannot be unscrewed with a screwdriver. Which Unior tool can be used in this case?

407/4DP screw pliers are the best choice for unscrewing screws with a damaged head profile.
Mangos ergonómicos

Las tenazas Unior, con sus mangos ergonómicos y un agarre especialmente diseñado, ofrecen el máximo confort en el trabajo y la más alta eficiencia con un mínimo esfuerzo.

Protección de la superficie

Las pinzas están fabricadas en acero con una excelente composición mejorada especialmente. Muchos modelos tienen protección de cromo adicional en la superficie.

Alta precisión

Con su perfecto diseño y sus ventajas tecnológicas, las tenazas Unior garantizan un agarre de alta precisión en cualquier tipo de uso general o específico.