Documentation
More About Product
Product features
material: cutter from premium plus carbon steel
steel handles, lacquered, heavy duty plastic handles
cutting edges separately induction hardened
Important!
for cutting cables without steel wire or inside steel coat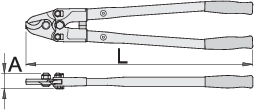 * Images of products are symbolic. All dimensions are in mm, and weight in grams. All listed dimensions may vary in tolerance.
Secure cut

Designed for a secure and accurate cut through sheet steel, concrete reinforcement, wires, cables and PVC pipes, but comprising also pruning and grape shears for work in orchards and vineyards, the varied Unior shears line proves its advantages in a wide range of professional and home uses.

Superior quality steel

Made of superior quality carbon steel, Unior shears have drop forged jaws, induction hardened blades, and solidly insulated handles, and also feature an efficient surface protection.

Tempered blades

With perfectly tempered blades you can do that effortlessly and with great results!