Multifunctional electrician`s pliers
Documentation
More About Product
Product features
material: premium plus carbon steel
drop forged, entirely hardened and tempered
cutting edges induction hardened
surface finish: chrome plated according to ISO 1456:2009
heavy duty double - component handles
Advantages:
ergonomically shaped handle
Extra strong grip - the design and shape of the handles give the hand more leverage during use, enabling more stability and safer transmission of force.
Multi-toothed jaw prevents slipping and enables a better grip of cables, wires etc.
Usage:
The ground part of the jaw is intended for gripping objects with sensitive surfaces.
The pliers can be used for crimping insulated spade terminals.
Stripping off insulations from Ø 2.2 mm to Ø 3.0 mm.
Stripping off insulations from Ø 3.5 mm to Ø 4.0 mm.
Cutting wires from Ø 2.2 mm to Ø 4.0 mm.
Crimping cable terminals up to Ø 4.0 mm.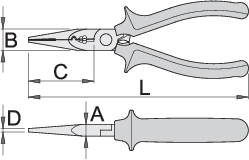 cutting capacity (10N=1kg)
* Images of products are symbolic. All dimensions are in mm, and weight in grams. All listed dimensions may vary in tolerance.
Questions & Answers
Can basic electrical works be performed using universal electrical installation pliers?

Yes, universal electrical installation pliers can be used for cutting, removing insulation, gripping, pressing cable connections together and bending wires. This makes up the basic electrical works.
Ergonomic handles

With ergonomic handles and a specially designed grip, surface Unior pliers provide maximum comfort at work and high efficiency with minimum strain.

Surface protection

The pliers are made of excellent steel with special improved composition. Several models come with additional chrome surface protection.

High precision

With their perfect design and technological superiority, Unior pliers ensure a high precision hold in any instance of general or dedicated use.