Variator and clutch drive holder tool with ring wrench
Product features
material: premium plus carbon steel
surface finish: chrome plated to standard ISO 1456:2009
Advantages:
comes with 3 different lengths of accessories that cover several types of drives
Usage:
for scooters PIAGGIO, GILERA 50-125ccm; water- and air-cooled
it is used as a block for the gear on the starter when untightening the front part of the drive
accessories for holding the pot on the back part of the drive for untightening the nut
wrench for untightening the inside nut of the back part of the drive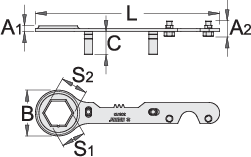 * Images of products are symbolic. All dimensions are in mm, and weight in grams. All listed dimensions may vary in tolerance.
Surface protection

Tools are made of excellent steel improved composition. Several models come with additional chrome surface protection.

New advanced technology

The use of new technological methods and top quality materials result in tools with a long life span, safety designs ensure repair jobs without damages, customized solutions, excellent effectiveness, modern materials and ergonomic design provide good looks and safe use.

Top Quality Materials

The well-thought-out design and precise manufacture prevent damage to the objects being worked on even under a substantial load. With these characteristics, the effective Unior tools are the right selection for craftsmen who require quality and durable tools with a long service life.