Long hex screwdriver socket 3/8"
Product features
material: socket from premium flex chrome vanadium steel
material: bit from premium plus carbon steel
entirely hardened and tempered
made according to standard DIN 7422 (only metric dimension)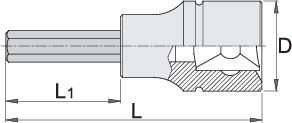 * Images of products are symbolic. All dimensions are in mm, and weight in grams. All listed dimensions may vary in tolerance.
Simple use

The operation of the ratchet accommodating the sockets is based on a 75-tooth mechanism, which divides the 360° full circle into sections of 4.8-degree angles and thus guarantees simpler use even at nearly inaccessible points. With larger ratchet increments, fewer turns and less effort, you can achieve greater reliability and higher precision.

Accuracy

Together with the indispensable ratchets, Unior sockets allow even, predictable and precision tightening and loosening of screws and nuts -working with Unior ratchets is safer and more accurate.

Safety

Special socket retention system with a one-touch release button ensures greater safety at work and an increased socket locking speed.