Product features
use to install pistons on most passenger cars.
high quality construction with sprung steel wraps
with safety adjusting screws
available in a wide range of sizes
This tool is used to install pistons and piston rings into engine cylinders. Different sizes are available.
How to use the tool:
Insert the piston and any piston rings into the tool, position the tool at the opening and use it to insert/push the piston and any piston rings into the cylinder.
Documentation
More About Product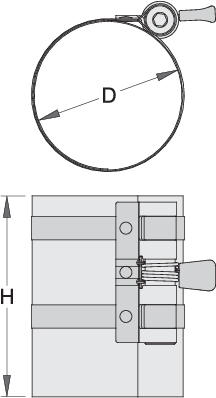 * Images of products are symbolic. All dimensions are in mm, and weight in grams. All listed dimensions may vary in tolerance.
Surface protection

Tools are made of excellent steel improved composition. Several models come with additional chrome surface protection.

Ergonomic handle

With ergonomic handles and a specially designed grip, surface Unior pliers provide maximum comfort at work and high efficiency with minimum strain.

High precision

With their perfect design and technological superiority, Unior automotive tools ensure a high precision hold in any instance of general or dedicated use.