Product features
material: premium plus carbon steel
Accepts wheels from 16 to 29 inch with or without tire.
Supports hubs up to 157 mm width.
Truing of 20 mm or other dimension axle wheels requires additional adaptors.
This stand for professional use is specially designed for bicycle repair shops. It can be bench-mounted or vise-held.
The calipers enable simultaneous radial control of the wheel position on both sides, with an additional possibility to control radial symmetry in relation to the hub.
The geometry of the callipers enables a simultaneous axial control for accurate truing of the rim.
The calipers have plastic coated tips to prevent scratching the rim.
The upright arms position can be adjusted with an upright adjustment knob to fit the axle width. The caliper arm position can be adjusted to fit the wheel radius and the caliper tip distance can be adjusted to fit the rim width.
When changing the wheel, the spring loaded upright arms and the caliper arm can be quickly pulled away, automatically springing back to a set position when inserting a new wheel. This enables faster truing of several same size wheels.
Truing control of brake rotors can be done with additional calipers inserted into slots in the upright arm.
Additional holes are useful for storing all the three dimension hubs inserts 1689.3 (12, 15 and 20 mm).
Additional nuts in the bottom part of the stand enable easy tightening to a workbench.
Important!
1689 professional wheel centering stand arm can get out of center after being used frequently. Controlling caliper arm enables us, to calibrate the stand arm back to its center position.
Documentation
More About Product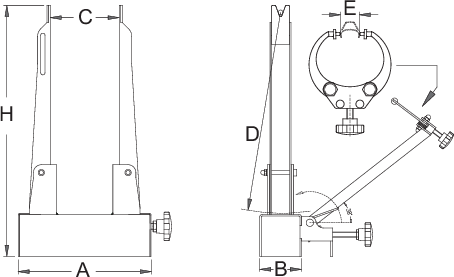 * Images of products are symbolic. All dimensions are in mm, and weight in grams. All listed dimensions may vary in tolerance.
New advanced technology

The use of new technological methods and top quality materials result in tools with a long life span, safety designs ensure repair jobs without damages, customized solutions, excellent effectiveness, modern materials and ergonomic design provide good looks and safe use.

Customized solutions for excellent results

Our solutions offer adaptability to the bicycle parts of all producers. Our tradition, our own design, and constant technical development and modern technology keep us one step ahead.

Excellent durability

Unior hand tools finish many jobs faster and make working in tight areas easier. They are adapted to work on the latest bicycle models.