Atributi proizvoda
Hub Genie is a unique solution for removing hub end caps while servicing the hubs or converting them to different standards. Thanks to the expanding mechanism, which grabs the hub cap evenly from the inside, even the most stubborn hub end caps are easy to pull-off. Compared with the traditional way of removing hub end caps, this tool won´t damage cups or hub. Simply genius.
The tool is available in two versions; smaller one that covers hubs with 12 mm & 15 mm through axles and bigger version that works with 20 mm through axle hubs. Both versions feature plastic dipped handle for better ergonomics and grip.
Tehnički podaci
Više o proizvodu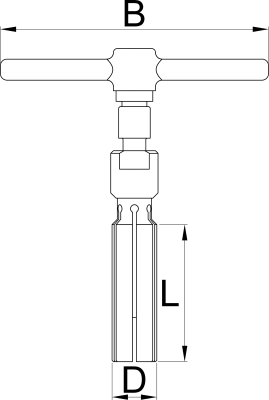 * Slike proizvoda su simbolične. Sve dimenzije su u mm, masa je u g.
Nova unaprijeđena tehnologija

Primjena novih tehnoloških metoda i najkvalitetnijih materijala rezultira dugim životnim vijekom alata, sigurnim dizajnom koji osigurava popravke bez ozljeda, prilaođenim rješenjima, odličnom učinkovitošću i ergonomskim dizajnom koji pruža dobar izgled i sigurnu upotrebu.

Prilagođena rješenja za izvrsne rezultate

Naša rješenja stvaraju UNIOR alat koji je prilagodljiv dijelovima za bicikle svih proizvođača. Naša tradicija, vlastiti dizajn, kao i konstantni tehnički razvoj i moderne tehnologije omogućavaju nam da smo uvijek korak ispred.

Izvrsna izdržljivost

Unior ručni alati završavaju poslove brže i čine rad u ograničenom prostoru lakšim. Alati su prilagođeni za rad i na najnovijim modelima bicikala.