Cisaille droite pour tôle fine
ATTRIBUTS DU PRODUIT
matière : acier au carbone Premium Plus
lame traitée par induction 60 HRC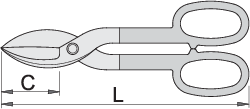 * Les images des produits ne sont pas contractuelles. Toutes les dimensions sont en mm, les poids en grammes.
Safety tips

Never hammer, or use your foot to get extra pressure on the cutting edges.
Be careful of sharp edges on the cutting edges of these tools.
Use only hand pressure for cutting.
Never hammer, or use your foot to get extra pressure on the cutting edges.
Snips should be carefully put away after use. Wipe the cutting edges with a lightly oiled rag.
Oil the pivot bolt on the snips occasionally.

Don't try to cut sharp curves with straight cut snips.
Don't resharpen a snip blade.
Don't use snips as a hammer, screwdriver or pry bar. Use proper tools for the job.
Don't store snips in a drawer with other tools. Tools with cutting edges should always be treated with extra respect.
Coupe en toute sécurité

Conçue pour une coupe précise et en toute sécurité de tôles d'acier, d'armatures pour béton armé, de fils, de câbles ou de tuyaux PVC, mais comportant également des sécateurs pour travaux de vignobles et de vergers, la gamme variée de cisailles Unior démontre ses avantages pour un large éventail d'utilisations tant professionnelles et domestiques.

Qualité d'acier supérieure

Fabriquées à partir d'acier au carbone de qualité supérieure, les cisailles Unior possèdent des mâchoires forgées par estampage, des lames durcies par induction, des poignées solidement isolés et une protection des surfaces efficace.

Lames trempées

Avec des lames en acier trempé comme il faut, vous pouvez le faire sans effort et avec d'excellents résultats au bout !