Pince universelle pour électricien gainage BI
Feuille de données
Plus d'information sur le produit
ATTRIBUTS DU PRODUIT
matière : acier au carbone Premium Plus
entièrement forgée et trempée
Mâchoires traitées par induction pour plus de dureté
Finition chromée suivant norme ISO 1456:2009
Gainage BI-matières grand confort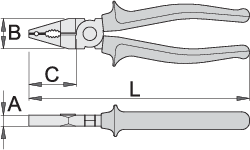 capacités de coupe (10N=1Kg)
* Les images des produits ne sont pas contractuelles. Toutes les dimensions sont en mm, les poids en grammes.
Safety tips

Pliers should be oiled regularly. A drop of oil at the hinge will lengthen the tool life and assure easy operation.
When cutting wire with pliers, you should always wear glasses or goggles.
Handles are provided for comfort. They are not intended to give user any degree of protection against electric shocks and should never be used on live electric circuits.

Don't use pliers for cutting hardened wire, unless specifically manufactured for this purpose.
Don't expose pliers to excessive heat. This may ruin the tool.
Don't use pliers as a hammer.
Don't hammer on the handles. They may crack or break.
Don't extend the length of plier handles to secure greater leverage.
Don't use pliers on nuts or bolts. A wrench will do a better job and with less risk of damage to the fastener.
Questions & Answers
The head profile on the screw has deformed to such an extent that it cannot be unscrewed with a screwdriver. Which Unior tool can be used in this case?

407/4DP screw pliers are the best choice for unscrewing screws with a damaged head profile.
Poignées ergonomiques

Grâce à leurs poignées ergonomiques et à leurs surfaces de prise spécialement conçues, les pinces Unior assurent un confort de travail et une efficacité maximum, pour un minimum d'effort.

Protection des surfaces

Les pinces sont fabriquées à partir d'acier d'excellente qualité à composition spécialement optimisée. Plusieurs modèles possèdent une protection de surface chromée supplémentaire.

Haute précision

Grâce à leur conception parfaite et à leur supériorité technologique, les pinces Unior assurent une prise de haute précision en toute circonstance, qu'il s'agisse d'un emploi général ou dédié.