Pince universelle gainage BI isolée VDE
Feuille de données
Plus d'information sur le produit
Normes
DIN EN IEC 60900 (VDE 0682-201):2019-04; EN IEC 60900:2018
ATTRIBUTS DU PRODUIT
matière : acier au carbone Premium Plus
Entièrement forgée et trempée
Mâchoires traitées par induction pour plus de dureté
Finition chromée suivant norme ISO 1456:2009
Gainage BI-matières grand confort
Conçue selon les normes ISO 5746 et EN IEC 60900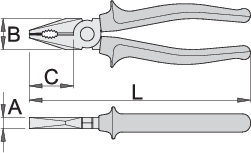 capacités de coupe (10N=1Kg)
| | | | |
| --- | --- | --- | --- |
| 610421 | 160 | 1,6 | 2,0 |
| 610422 | 180 | 1,8 | 2,5 |
| 610423 | 200 | 2,0 | 2,5 |
| 610424 | 220 | 2,0 | 3,0 |
* Les images des produits ne sont pas contractuelles. Toutes les dimensions sont en mm, les poids en grammes.
Safety tips

Pliers should be oiled regularly. A drop of oil at the hinge will lengthen the tool life and assure easy operation.
When cutting wire with pliers, you should always wear glasses or goggles.

Don't use pliers for cutting hardened wire, unless specifically manufactured for this purpose.
Don't expose pliers to excessive heat. This may ruin the tool.
Don't use pliers as a hammer.
Don't hammer on the handles. They may crack or break.
Don't extend the length of plier handles to secure greater leverage.
Don't use pliers on nuts or bolts. A wrench will do a better job and with less risk of damage to the fastener.
Questions & Answers
Are certified insulated tools made through a different procedure than non-certified insulated tools?

The tools are made according to the same procedure.

Are insulated (VDE) tools considered as personal protective equipment (PPE)?

According to EU regulations, VDE tools are not considered as PPE.

Is it possible to work with insulated pliers under electrical voltage?

Yes, but only by professionals who follow safety requirements and use additional personal protective equipment.

Are the VDE tools only being sampled in series production?

The high voltage test (at 10kV) is performed fully on each tool. Other tests are performed in accordance with the EN60900 standard.
Protection ultime

Les outils VDE isolés Unior assurent une protection ultime, même lors d'une utilisation à proximité de circuits sous tension avec un potentiel allant jusqu'à 1000 volts. L'aptitude à l'usage de l'ensemble des outils est contrôlée par des tests de résistance à l'impact, d'électricité, de résistance au feu, d'adhésion de l'isolation et de résistance à la pénétration, chaque outil étant contrôlé individuellement.

Acier haute qualité

Nos clés, pinces, cisailles, tournevis et autres outils isolés conçus pour un travail sur des installations électriques ou utilisant d'autres énergies sont fabriqués à partir d'aciers de haute qualité avec protection renforcée et sont conçues pour une utilisation simple et sûre.

Réglementation VDE

Isolés et contrôlés selon la réglementation VDE, les outils Unior destinés aux travaux sous tension satisfont aux exigences de la norme européenne EN 60900, internationalement reconnue.