Clé à fourche "gros efforts"
Feuille de données
Plus d'information sur le produit
ATTRIBUTS DU PRODUIT
The one-sided open-end wrench is forged from premium chromium-vanadium steel. The one-sided wrench with a long handle is intended for screwing screw joints on mechanical devices and other machine elements, whereas larger versions of the wrench are used in shipbuilding, oil industry and heavy machinery where higher torque is required.
matière : acier Chrome Vanadium Premium
Forgée à chaud, entièrement traitée thermiquement et trempée
Finition noire phosphatée
conçue selon la norme DIN 894
Utilisation:
Applications : dans l'industrie pour les travaux sur machines, moteurs et autres équipements
Ses larges dimensions sont pratiques pour l'industrie maritime, pétrolière et autres industries lourdes où des équipements lourds sont utilisés
Cette clé permet des interventions sur des pièces nécessitant un serrage optimale et difficile d'accès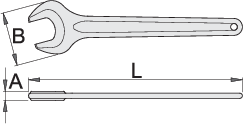 * Les images des produits ne sont pas contractuelles. Toutes les dimensions sont en mm, les poids en grammes.
Longue durée de vie

Les clés sont faites d'acier chrome vanadium Premium à haute densité aux points de pression, pour des outils puissants et durables

Profil sûr

Leur profil de serrage spécifique prévient les écrous et boulons contre tout risque de matage. Le serrage est exercé sur des surfaces de contact maximales créant ainsi un entraînement sur les faces de l'écrou pour en préserver les angles. L'une des plus grandes qualités de l'outillage à main UNIOR est sa durabilité.

Conception innovante

Grâce à leur design innovant et leur conception issue d'une technologie de pointe, les clés de serrage UNIOR garantissent une précision et une efficacité optimale dans le transfert de la force de serrage vers la pièce à travailler.