Strategic approach and production quality for the satisfaction of final customers
"Tour of the Unior Hand Tools production facilities"
When it comes to its tools, Unior Hand Tools has a tradition of quality and professional workmanship that spans over 100 years. Every year, it manufactures over 100 million tools and pieces of sheet metal packaging. These makes it possible to have an extensive sales and distribution network in more than 120 countries worldwide. The proper functioning of this system is based on its comprehensive and strategically planned production. This is why we have decided this time to take a look around more than 12,000 m2 of production facilities where more than 250 employees work. We wanted to see how the production is organised and to experience what it is like to be a part of the story that supplies quality tools under the Unior brand to the whole world.
What surprised us at the beginning was the fact that around 35% of the employees working in their production are women, which means that hand tools manufacturing and treatment is no longer a strictly male affair. Work is organised in three shifts. 40% of the people work in one shift, 35% in two and 25% in three shifts. This means that there is a constant supervision over the quality and the advanced manufacturing of hand tools.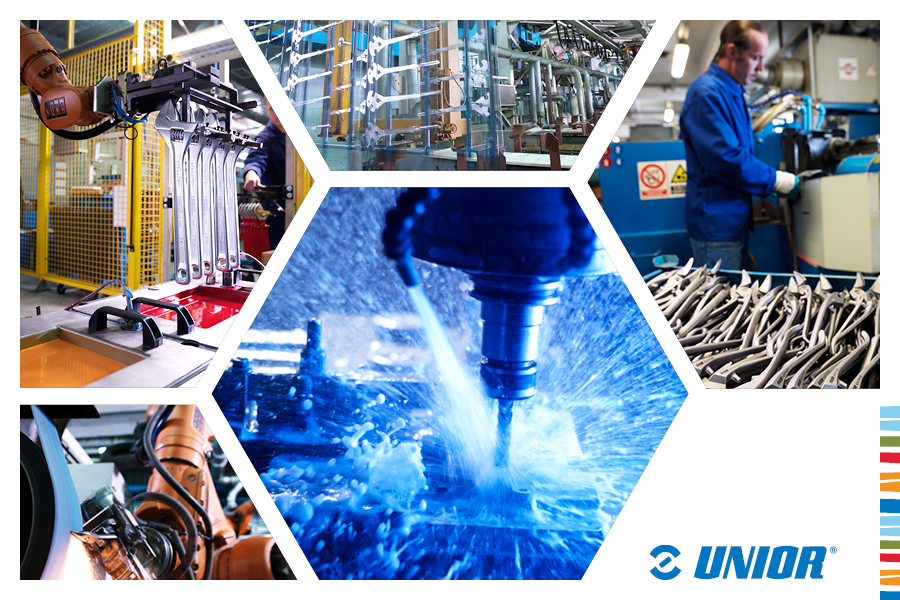 Our journey around the production facilities took us from the beginning to the end of the production, where we learned that the tool manufacturing process includes cutting, forging, machining, drilling, turning, milling and broaching, as well as heat treatment, which in turn includes hardening and tempering. After this, the products are sanded before surface protection can be added (chroming, phosphating, blackening, zinc plating, painting, etc.). Finally, the pieces are put together and fully assembled, resulting in a product that is ready for the end user and for placement on the market. Although the above process may seem simple, it requires the considerable knowledge and skills of more than 250 female and male workers.
With over 6,000 different products, Unior Hand Tools today ranks among the top five European manufacturers of hand tools. The majority of the production output that Unior Hand Tools supplies to various markets consists of wrenches, pliers, various sockets with accessories, bike tools, metal packaging, pullers and insulated tools for work in electrically live environments. They are present on all continents and in 120 markets, mostly under their own brand name, but the majority of the tools are delivered to the European countries.
Their professional approach and development in these market segments is demonstrated by the fact that their production of hand tools takes into account the latest technological achievements and is constantly adapting to emerging user needs. This includes using superior materials, such as chrome/vanadium steel, which guarantees that Unior tools have an extremely long lifespan. This is possible because Unior Hand Tools has its own development capacities where it develops solutions adjust to individual branches and industries.
All of the above includes continuous investments and development of the production process itself. As a result, their plan for 2021 includes investments into new technologies for faster and even better adapted production work. They are also oriented in digitization of their work processes, a proof to just how entirely they monitor trends and modern approaches.