Unior racing team's Martin Vugrinec comes in first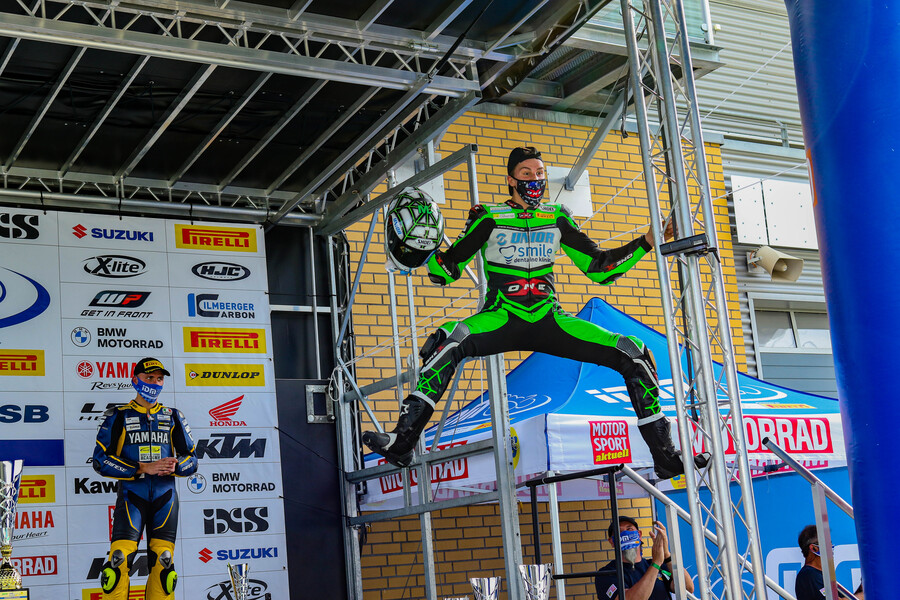 The final two races at the Hockenheimring will decide on the IDM moto championship champion in the Supersport 600 category.
This weekend, an unforgettable international IDM moto race week took place at the Lausitzring race track in Germany, where the Unior Racing Team racer Martin Vugrinec shone in the Supersport 600 category. With an unforgettable and unique performance, he overtook his opponents and celebrated wining first place both on Saturday and on Sunday. The young Yamaha rider thus recorded his first IDM victory in the highly competitive IDM Supersport 600 category.
The highlight of both races definitely came on Sunday, when the motorcyclists served the spectators watching on TV an unforgettable and memorable race. The 21-year-old rider Martin Vugrinec came in victorious before Luca Grünwald on Kawasaki, who still retains the lead in the overall standings. After a successful start in first place, Vugrinec maintained the lead in the race until the ninth lap, when he was overtaken by the defending champion, Max Enderlein. The tension continued until the turnaround in the 13th lap when Martin again took the lead and maintained it until the finish line of Sunday's race.
Not even thinking about the total points of the IDM championship at first, the young rider was thrilled about his individual race result. But soon after, the Yamaha rider came to realize he is now one of the hottest candidates for taking IDM title in his hands. While Grünwald is still in the lead with 101 championship points, Vugrinec is not far behind with 99 points. The young racer, a native of Croatia, may, thanks to the said victories, be looking at an enviable IDM title in the Supersport 600 category in the coming weeks.
The deciding race that will give us the title winner will therefore be the big finish at the Hockenheimring. The season, offering much excitement to date though shortened to eight races due to the corona virus pandemic, promises that we can expect a very exciting finale. And since having a live audience at the race is still not possible because of the corona, IDM fans will be able to watch the final race in a free live stream. The final races will take place between 25th and 27th of September at the Hockenheimring.