Tietolomake
More About Product
Product features
materiaali: erikoistyökaluteräs
muottitaottu, täysin karkaistu
leikkuupinnat induktiokarkaistu
pintakäsittely: kromattu standardin ISO 1456:2009 mukaisesti
raskaan käytön 2-komponenttikahvat
valmistettu ISO 5749 -standardin mukaan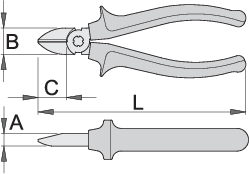 leikkauskapasiteetti (10N=1kg)
| | | | |
| --- | --- | --- | --- |
| 607883 | 140 | 1,6 | 2,0 |
| 607884 | 160 | 1,6 | 2,5 |
* Tuotekuvat ovat suuntaa-antavia. Kaikki mitat on ilmoitettu mm, painot grammoina.
Questions & Answers
What does it mean that the pliers are quenched and tempered and the head parts/teeth of the pliers are inductively hardened?

It means that the pliers are thermally processed by quenching and tempering their entire surface to a hardness of about 45HRc, while head parts are additionally inductively hardened to a hardness of at least 60HRc.

What is meant by the statement that pliers are made in accordance with the stated ISO standard?

It means that the pliers are in accordance with the international standard in terms of dimensions, strength and structure, and compliance is determined by prescribed tests.
Ergonomiset kahvat

Tarkasti suunnitellut ergonomiset kahvat tekevät Unior-pihtien käytöstä mukavaa ja tehokasta.

Pintasuoja

Pihdit valmistetaan korkealaatuisesta, erikoisvalmisteisesta teräksestä. Osa pihdeistä on lisäksi kromattu lisäsuojan vuoksi.

Tarkkuus

Erinomainen suunnittelu ja laadukkaat materiaalit takaavat sen, että Unior-pihdit helpottavat niin harrastajien kuin ammattilaistenkin työntekoa.