Tietolomake
More About Product
Product features
materiaali: kromivanadiini
muottitaottu, täysin karkaistu
pintakäsittely: kromattu standardin ISO 1456:2009 mukaisesti
rakennustelineen kokoamiseen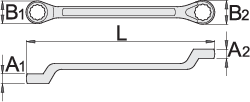 * Tuotekuvat ovat suuntaa-antavia. Kaikki mitat on ilmoitettu mm, painot grammoina.
Questions & Answers
Where I can buy scaffolding wrench?

Look our sales network in task Support on main menu.
Pitkäikäinen

The wrenches are made of Premium chrome vanadium steel with a greater density at the points of the highest pressure, and such dimensioning and manufacture only increase their extreme power and durability.

Turvakatkaisu

Erityisen, vääntövoimaa tasaisesti jakavan turvamuotoilunsa ansiosta Unior-vääntötyökalut vähentävät pulttien ja mutterien kulmiin kohdistuvaa painetta, mikä vähentää myös niiden vahingoittumisen riskiä.

Innovatiivinen suunnittelu

Huippuluokan suunnittelulla Uniorin jakoavaimet takaavat tarkan ja tehokkaan voimansiirron ruuvinkantoihin ja muttereihin.