Tool carriage Hercules, 100 anniversary
Product attributes
material: premium PLUS sheet metal
central locking system with a lock and folding key
lock with key included also foam keyring
oil and acid resistant casters of a diameter of 125mm, one with brake, which blocks spinning and swiveling of the caster
full extension drawers with top quality ball-bearing slides
opening and closing of drawers is very simple due to the uniform solution - drawer handle on the upper side enables users a synchronic grip and opening of a carriage drawer.
drawers with non-slip interior synthetic lining
coated with eco colour of Qualicoat quality standard
7 front drawers (5x L 563 x W 365 x H 70mm, 2x L 563 x W 383 x H 150mm)
basic dimensions with handle and casters L 1182 x W 640 x H 955 mm
total volume of drawers: 133 litres
static load capacity of carriages without casters: 2300 kg
dynamic load capacity of carriages: 550 kg
capacity of front drawers: 45 kg
drawers compatible with SOS tool trays 1/3, 2/3, 3/3
Advantages:
Perforated wall on the back side of the tool carriage allows hanging tools with tool hooks
As an accessories available also a spray holder for easy storage of sprays up to dia. 68mm, and a back door with a lock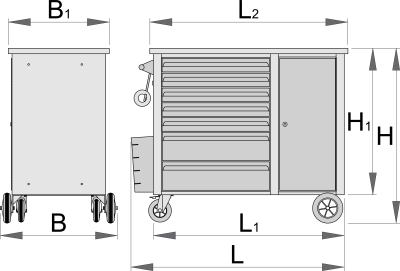 * Images of products are symbolic. All dimensions are in mm, and weight in grams. All listed dimensions may vary in tolerance.
Welcome to latest catalogue of Unior hand tools!
Together with the standard line of Unior tools we present two new groups: pneumatic tools and bicycle tools.