Quick IRONGATOR engineer's vice with quick moving system
Product features
housing from grey iron casting
drop forged jaws from tool carbon steel, hardened and tempered
lacquered housing, jaws anticorrosive oiled, other parts zinc plated
uniPRO slides ensure precise running of moving parts
engineer's vice can be combined with swivel base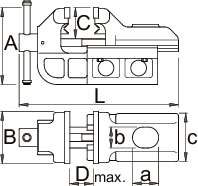 * Images of products are symbolic. All dimensions are in mm, and weight in grams. All listed dimensions may vary in tolerance.
Safety tips

Avoid clamping with heavy pressure on the corner of the vice jaws as it may break off a corner of a jaw.
Replace a bent handle as soon as possible.
Use bolts in all of the holes in the base of the vice.
Use lock washers under the nuts.
When work is held in a vice for sawing, saw as close to the jaws as possible to prevent vibrations. Be careful not to cut into the jaws.
When clamping extra long work, support the far end of work rather than putting extra pressure on the vice.
Regularly lightly oil all moving parts.
If the threaded part of the vice is exposed, keep it free of chips and dirt.
Discard any vice that exhibits the slightest hairline fracture.
Always use a vice large enough to hold the work without strain.

Don't use the jaws of a vice as an anvil.
Never use an extension handle for extra clamping pressure.
Never pound on the handle to tighten beyond hand pressure.
Never try to repair a vice by welding or brazing.
Don't try to bend a heavy rod in a light vice.
Handy

The wide range of tools are intended for various target groups of users. Clamps ensure quick and simple clamping. The cutting and grinding wheels are designed for working both tough and soft metals, plastics, etc.

Strong Grip

Strong Grip the Unior tools are distinguished by providing a strong grip on the objects being worked on without injury. The guides in the clamps enable the accurate movement of jaws with the quick movement handle. Installation on rotating bases ensures that it adapts to the object being worked on.

Top Quality Materials

The well-thought-out design and precise manufacture prevent damage to the objects being worked on even under a substantial load. With these characteristics, the effective Unior tools are the right selection for craftsmen who require quality and durable tools with a long service life.