Internal lock rings pliers, straight, anniversary
Product attributes
material: premium plus carbon steel
drop forged, entirely hardened and tempered
surface finish: chrome plated according to ISO 1456:2009
double plastic dipped handles
made according to standard DIN 5256 form C
Advantages:
30% higher endurance in comparison to convenient lock rings pliers
Usage:
for fitting circlips on bore holes
Profiles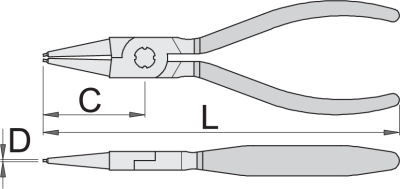 * * Images of products are symbolic. All dimensions are in mm, weight in grams.
Welcome to latest catalogue of Unior hand tools!
Together with the standard line of Unior tools we present two new groups: pneumatic tools and bicycle tools.